Virtual sports betting is an incredible opportunity to get on your favourite sports at any time of the day or night, whenever you want, even when there are no sports events taking place! Thanks to today's technology, virtual sports betting allows you to bet on computer-generated football matches, cricket matches, greyhound races and horse races in all the same ways you would on real sports events.
Virtual Sports Betting at 10CRIC India
What do You Need to Know About Virtual Sports Betting?
Competitive virtual sports odds are offered for every virtual sports bet type, which you can select and bet on just as you would for real-life sports. One of the big benefits of virtual sports betting is the live feed of the event itself that is right there in front of you, right next to all your stats, odds and markets.
Another fantastic benefit is these virtual sports events take place much more often than real-life sports events do - as often as every 2 minutes! - and run 24 hours a day! And at 10CRIC you get all this action in your own country of India and in your own currency of Rupees! Interested? Read on for more info!
What is Virtual Sports?
Before we get into the details of virtual sports betting, let's take a few minutes to look at what virtual sports actually are. Virtual sports are basically virtual versions of popular sporting events, such as football matches, horse races, basketball games and greyhound races. The best way to get an idea of what these virtual sports are is to take a look on the 10CRIC website under Virtual Sports, then choose one of the available virtual sports and watch the live feed. As you'll see, the matches, games and races are played out exactly as you might see them on television or at the event itself.
In virtual football, computer-generated players run around the pitch tackling, striking and scoring goals. There's half time and full time, fouls, yellow and red cards and pre and post-match stats and analysis, just like for a real football match. The only major difference is that matches run for only a few minutes rather than the full 90 minutes, focusing only on the highlights of the match.
In virtual cricket, matches are played in a similar fashion, with virtual players bowling, batting and scoring runs and wickets on the pitch as in any cricket match. These matches tend to run for only a few minutes, with highlights from the game shown on the live feed.
In virtual horse racing and greyhound racing, you can watch the races on the live feed just as you would at the racetrack itself or on television. You'll get to watch the virtual horses and greyhounds as they race around the track, with icons underneath tracking the progress and position of each runner as the race progresses. You can even check stats, form and track details, such as race length and type.
Virtual Sports Events and Games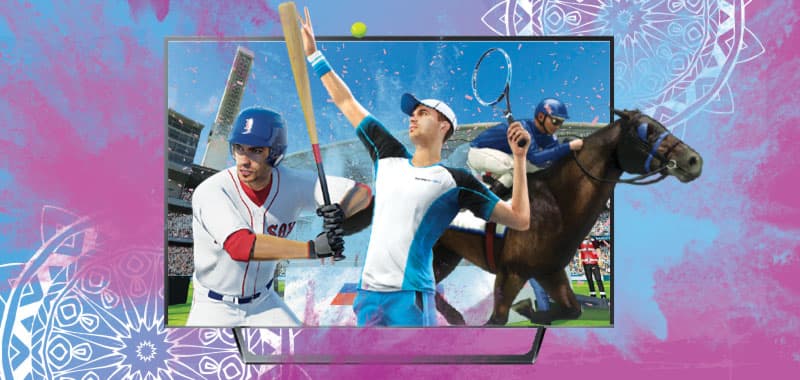 As a 10CRIC member, you have access to the most exciting virtual sports events and games in India! This is of particular interest to fans of football, horse racing, greyhounds and basketball who can't wait until the next race, match or game! With Virtual Sports, you don't have to, with events taking place as frequently as every 2 minutes! Get instant access to all your favourite sports anytime you want by registering at 10CRIC now.
Let's take a look at what kind of virtual sports betting opportunities are available to you at 10CRIC:
Virtual Sports are the perfect way to bet on your favourite sports anytime you want, without having to wait for the next match, game or race. And with events starting as frequently as every 2 minutes, you never have to wait long to get a piece of the action. Register at 10CRIC and start exploring Virtual Sports Betting now!
What do You Need to Know About Virtual Sports Betting?
10CRIC is one of the premier virtual sports betting sites in India, making it very quick and easy for India residents to bet on virtual sports. But how do you actually bet on virtual sports? You're in the right place to learn more! Betting on virtual sports is basically exactly the same as betting on normal sports events. Many would argue that betting on virtual sports is actually even better than the real thing thanks to the fact that you have everything you need in one place: a live feed of the action, all your betting markets, form, odds, and of course the frequency of the events. You really can't beat events starting at least every 2 minutes in real life, can you? So let's take a closer look at what betting markets are available to you and how to actually bet on virtual sports, before finishing with a few top tips.
What Virtual Sports Betting Markets Are Available?
The virtual sports betting markets available at 10CRIC will vary, of course, depending on what virtual sport you're looking at, but they will all be the same top ones that are available for betting on real sporting events.
Virtual Football bet types:
Moneyline
Over/Under
Correct Score
Virtual Cricket bet types:
Match outcome
Runs
Wickets
Virtual Greyhounds bet types:
Win
Place
Forecast
Tricast
Virtual Horse Racing bet types:
Win
Place
Forecast
Tricast
As you can see, these are a lot of the same popular bet types you're likely to find for real football, greyhounds, cricket and horse racing events, which is what makes virtual sports so interesting and appealing! To check out the available virtual sports betting markets for yourself, simply go to Virtual Sports, choose the virtual sport you're interested in, then look at any match, game or race. Additional markets will be shown on the right with a number and an arrow. Simply click to see them all.
How to bet on Virtual Sports?
The first thing to do when you're ready to start betting on virtual sports is to navigate to the virtual sport you're interested in. Simply choose Virtual Sports from the list of sports down the left side of the 10CRIC sports page. In the centre section, you'll see all available virtual sports. Click the one you're interested in. You'll then see the live feed at the top of the centre section, with upcoming events listed underneath. Find the best type you're looking to select, or view additional bet types, if there are any, by clicking the arrow to the right of the event or selecting the relevant tab. When you're ready, simply click on the bet type you want, which will then be added to your bet slip. Look to the top right of your screen, and you'll see your bet type for that event on your bet slip. Then you simply enter how much you want to bet in the box and click Place Bets. You can then watch the virtual sports event play out on the live feed, and your bet will be settled immediately afterwards. Simple!
Tips for Betting on Virtual Sports
So now you know a bit more about what Virtual Sports are, what betting opportunities are available to you and how to bet on them, here are some top tips for getting the most out of your Virtual Sports Betting experience:
Watch a few events first: Before you jump right in and start placing bets, take a few minutes to familiarise yourself with how the virtual sports events play out. Look at where all the stats are, what you're shown in the live feed, how the betting markets are displayed, when bets are no longer allowed to be placed, etc. A smart bettor is a knowledgeable bettor!
Check the stats: Just as in live sporting events, it quite often pays to check out the team or runner's previous performance as a way of predicting how well they'll do in their next event. Remember, just as in real sports events, and there's no guarantee this will be accurate as there are many factors at play.
Stay in control: Because virtual sports are always running and available 24 hours a day, with events starting at least every 2 minutes, it's very easy to lose track of time and possibly even how much you're betting. Be sure to take regular breaks and keep track of how much time and money you're spending on virtual sports betting.
Keep it fun: Virtual Sports are a fantastic way to have fun following all the action of your favourite sporting events whenever you want it. Just make sure it doesn't become a frustrating or emotionally negative experience. If you feel you're no longer having fun, take a break and come back to it later when you're ready to enjoy it again.
Virtual Sports are brilliant for betting on the sports you love without having to wait for the next real-life event. It's the perfect on-demand sports betting experience that's available to you day or night. Explore this exciting virtual sports betting experience for yourself at 10CRIC!