Australian Open Betting 2019 - Tennis Betting Tips and News
The first Grand Slam of the year – the Australian Open 2019 - will take place from January 14 to January 27, 2019. All matches will be played at Melbourne Park - the home of the tournament since 1988 when the competition moved from Kooyong Lawn Tennis Club (also in Melbourne).
Since its launch in 1905, the Australian Open has been staged in 5 cities across Australia and in 2 cities in New Zealand. In 1972 all games were moved to Melbourne as the city undoubtedly attracts the most fans of tennis. The tournament was initially called the Australasian Championships, but in 1927 the name was changed to the Australian Championships. In 1969 it was once again renamed - this time as the Australian Open.
The biggest matches usually take place at the Rod Laver Arena and just like the US Open, the Australian Open is played on hard courts.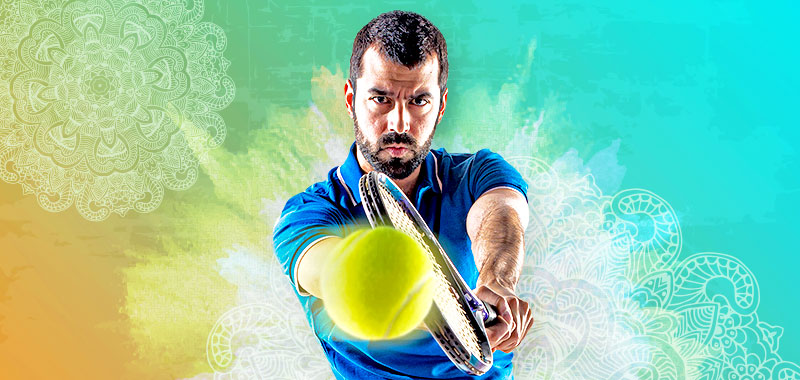 Australian Open 2019 – News and Matches
Australian Open Betting Favourites
This will be the 107th edition of the Australian Open and the 51st in the Open era. Before the tournament proper begins, the qualifying matches will be held from January 9 to January 12, determining who goes into the main draw.
Roger Federer won both the 2017 and 2018 editions of the Australian Open. The Swiss are returning to Grand Slam action after a knee injury forced him to take a year off. Federer defeated his long-time rival Rafael Nadal 6-4, 3-6, 6-1, 3-6, 6-3 in 2017 final. It was not any different for Federer in 2018, but this time it was against the talented Croatian, Marin Cilic, who pushed the Swiss maestro to five sets. This was Federer's sixth Australian Open title, putting him level with Roy Emerson and fierce rival Novak Djokovic for a number of Australian Opens won. 10CRIC provides a great variety of tennis betting odds and options for outrights.
Danish star Caroline Wozniacki is the defending women's champion after she beat then-World No. 1 Simona Halep 7-6, 3-6, 6-4 in 2018 final. While Wozniacki became the planet's top player after this win, Halep is currently the world No. 1. while Wozniacki has dropped to No. 3 since the win, making way for German star Angelique Kerber in the number two spot.
Australian Open – ATP Betting, Odds and News
We could be in for a feast of thrilling clashes at this year's tournament as the biggest names in tennis are looking to win the first Grand Slam of the year. The order of play and the seeds are yet to be announced, but the entire tennis betting enthusiasts will be hoping for another classic: Federer-Nadal clash. Both players of this pair are arguably the best tennis players of the current era and everyone expects them to give their all to grab yet another Grand Slam title.
There are two other big names to watch for - you can never rule out Novak Djokovic and world No. 4 Juan Martin Del Potro. The Argentinian has had his share of injuries over the last few years and back in October 2018 he once again had to take a break from the game, after suffering tendon patella damage at the Shanghai Masters. But if his rehabilitation goes well, he could be fully recovered just in time for the Australian Open.
The clashes between the top 8 players, including Alexander Zverev, Cilic, Dominic Thiem and Kevin Anderson, will also be worth watching out for and place a bet. There could be a shock in store this time with talent like Cilic, Kei Nishikori or even Hyeon Chung, who beat the 6-time champion Djokovic at the 2018 Australian Open, in with a chance of going all the way or at least causing an upset. So what are you waiting for? Place today your Australian Open ATP Bet and Win!
Australian Open Betting 2019 ATP
Australian Open – WTA Betting, Odds and News
Women's tennis WTA has always been unpredictable and there could be more surprises coming our way in January. This gives you the perfect chance for betting! You can predict the grand surprise and win from WTA betting. While Serena Williams has dominated the game over the last half-decade, she is not yet back to her almost-unbeatable best, when she returned to the game after giving birth to her daughter. However, Serena proved she is still among the top players on the circuit when she made it to the 2018 US Open final, only to lose to Japan's Naomi Osaka. The US star will be one of the hot favourites to clinch her 8th Australian Open title, while Simona Halep is on a roll after winning her maiden Grand Slam at the 2018 French Open, when she beat American Sloane Stephens 3-6, 6-4, 6-1 in the final. Stephens has garnered a lot of attention over the last couple of years, especially after she beat Serena in the Australian Open in 2013 when she was just 19 years of age. Four years later, she won her maiden Grand Slam - the US Open - beating fellow American Madison Keys in the final.
Another all-American clash between Serena and Stephens will be an interesting one to place your bet on. The duo does not have a particularly good relationship off the court, which would add spice to the match. Spain's Garbine Muguruza will be another threat to consider. She beat Serena in the 2016 French Open final and the following year defeated Serena's sister Venus to win her first Wimbledon title. The likes of Petra Kvitova, Jelena Ostapenko and even Maria Sharapova, who returned to action recently following a two-year ban, could turn out to be underdogs with the ability to go all the way.
Take the chance and bet on WTA!
Australian Open Betting 2019 WTA
Australian Open 2019 Doubles - Betting, Odds and News
As far as the men's doubles are concerned, few pundits expected 7 seeded Oliver Marach and Mate Pavic to clinch the 2018 title, even though they beat Americans Bob and Mike Bryan in the semi-finals. The Bryan brothers have a total of 236 doubles titles between them and will once again be hot favourites to win the competition this time around. However, they have not won the Australian Open since their 2013 triumph, this opens a great chance for betting.
The Hungarian-French pair of Timea Babos and Kristina Mladenovic defeated No. 2 seeds Ekaterina Makarova and Elena Vesnina – both from Russia – in the women's doubles final at the Australian Open in 2018. They had also knocked out No. 1 seeds Latisha Chan and Andrea Sestini Hlavackova in the quarter-finals. It will be interesting to see how the players pair up for this edition of the tournament. The betting odds are really great for the Russian duo.
Finally, coming to the mixed doubles, men's doubles winner Pavic teamed up with Canadian Gabriela Dabrowski to beat Babos and Indian star Rohan Bopanna in 2018 final in Melbourne. Although it's the lowest-profile Grand Slam event, the mixed doubles finals always provide an enjoyable end to each tournament and it will be fascinating to see which couples make it through to 2019 final in Melbourne.
Australian Open Betting
10CRIC has already started offering an array of various betting options for one of the biggest tennis tournaments of the year - the Australian Open 2019. Registered users of 10CRIC will surely take advantage of both the best betting odds and the best betting experience with the popular tennis event. The odds for all the biggest tennis stars such as Djokovic, Federer, Nadal, Wozniacki, Williams, Kerber, are simply phenomenal.

10CRIC also gives its bettors the unique option of Australian open live betting, where anyone can place a bet while the game is currently in play - every 10CRIC user can keep up with the many thrills and spills of the Australian Open.

Another fascinating feature of 10CRIC is that its customers have an option to cash out. Cashing out allows you to win money sooner than expected. If one of your bets is on the right track, 10CRIC will offer you a pay-out. …Or if you are daring, you can see your bet out for the maximum payout.

Noteworthy, 10CRIC has already created its quotes for its users to bet on the Australian Open in advance. Djokovic is the favourite to win the competition this time around with his odds sitting at 2.05*. These odds are aimed at those who like to play it safe when it comes to tennis betting.

For those of you who like to get big payouts, there are some real competitors with amazing odds such as Juan Martin Del Potro whose odds are 19.00* for the Argentinian to take home the trophy.

Alternatively, if you have your eye on the women's competition, 10CRIC has one of the best offerings there too. Serena Williams has the best odds of winning the competition with 5.50*.

And finally, for the customers looking for a low-risk winning 10CRIC has astonishing offers on some of the dark horses in the competition - Halep at 9.00* and Wozniacki at 13.00*. *Odds may vary

Australian Open 2019 Bonuses, Rewards and Promotions

If you are new to 10CRIC, be sure to take their premium bonuses and promotions and dive straight into the amazing world of the Australian Open! 10CRIC offers the best promotions and premium bonuses to its customers. You will be eligible for a huge ₹7,500 welcome bonus if you join now.

10CRIC has a large selection of tennis matches and options to bet on.

You can also get a 50% up to ₹2,000 Reload Bonus for a month of sport.

And the last, but not least – you can earn up to ₹10,000 for referring your friends to 10CRIC. For more premium offers go to: Betting Bonuses and Promotions.