ICC Men's T20 Cricket World Cup Odds & Betting from 10CRIC
You already know to look to 10CRIC for the most competitive cricket betting odds and special promotional offers. With the ICC Men's T20 World Cup finally almost here, 10CRIC has you covered with all the best odds and offers for the exciting upcoming cricket tournament.
Cricket fans in India know to look to 10CRIC for all the best Cricket betting action throughout the sporting calendar. With the added excitement of India hosting this year's ICC Men's T20 World Cup, fans have plenty of promotions from 10CRIC to look forward to enjoying.
10CRIC is the best destination for fans of ICC World Cup betting. We'll have betting odds on every game as well as generous promotional offers tailored specifically to this tournament. You won't get the benefits you'll see at 10CRIC from any other provider.
Interested in learning more about what to expect from 10CRIC once the tournament gets underway? Read on to see an explanation of ICC Men's T20 World Cup odds, as well as a preview of some of the special promotions that 10CRIC will have for the tournament.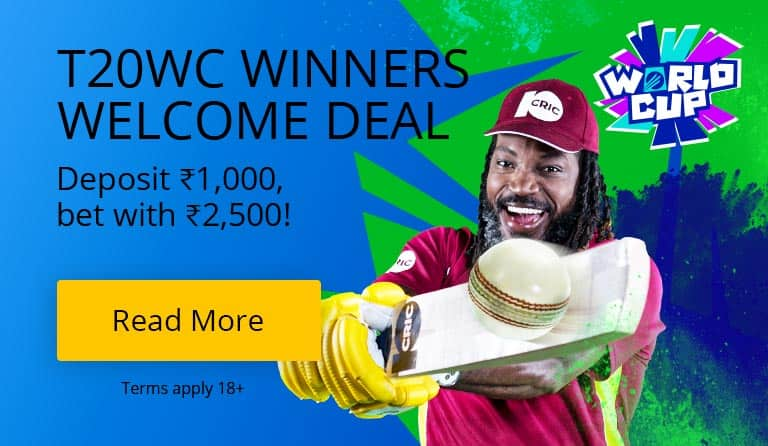 ICC World Cup Types of Betting Odds
Cricket World Cup Winner Odds
Cricket World Cup Winner Odds
Team
Odds
India (Ind)
3.50
England (Eng)
4.25
Australia (Aus)
5.30
New Zeeland (NZ)
8.75
Pakistan (Pak)
9.90
South Africa (SA)
10.40
West Indies (WI)
14.50
Sri Lanka (SL)
18.00
Bangladesh (BAN)
26.40
Afghanistan (Afg)
97.00
Zimbabwe (ZIM)
525.00
Ireland (Ire)
550.00
Scotland (Sco)
1600.00
Netherlands (Ned)
1600.00
Nepal (Nep)
1600.00
United Arab Emirates (UAE)
2400.00
Papua New Guinea (PNG)
2500.00
Updated on 08-November-2021
Want to get started wagering on ICC World Cup betting odds? The first step is learning how to read the different formats of betting odds that you may come across while browsing different sportsbooks. Let's take a look at each of these different ICC World Cup betting odds below:
Pre-game ICC Men's T20 World Cup betting odds - You'll see betting odds for a game posted well in advance of the starting time. Try to predict the winner and place a pre-game bet on who will come out on top. These opening odds can often be some of the most competitive. These pre-game odds close at the first toss of the game.
Outright ICC Men's T20 World Cup betting odds - Along with betting on individual games, you can also find outright betting odds on which team will win the whole tournament.
Live ICC World Cup betting odds - Want to see how the game is starting to play out before placing your bet? Live odds let you see how things are shaping up before you decide how to bet. The odds will be updated in real-time according to the changing circumstances of the game.
You'll see each of these types of wagers when you look at ICC World Cup betting odds from 10CRIC. Every bettor plays the odds a little differently, so you'll need to figure out which type of wager works best for you before deciding how to create your own strategy.
10CRIC ICC Men's T20 World Cup Betting App
Need an ICC Men's T20 World Cup app that lets you take all the action of the tournament wherever you go? The 10CRIC betting app is exactly what you're looking for. You'll be able to take advantage of ever-changing live odds as you watch the match unfold and manage your bets from anywhere that you have an internet connection by using this helpful tool.
Using the 10CRIC betting app, you won't need to miss out on any games or bets just because you aren't on your computer at the time of the match. Instead, you'll be able to manage your account and place your wagers while you're on the go all in a convenient and user-friendly experience.
Available for both Android and iOS devices, the 10CRIC betting app is compatible with most modern phones and tablets. The clear and easy to understand user interface makes managing your account and placing a wager as simple as possible, giving you the easiest way to place your bets.
Download the 10CRIC betting app today so that you'll be ready ahead of when the tournament starts. It has everything you need in an ICC Men's T20 World Cup app, so you'll be ready to get in on the action once the World Cup finally gets underway. Keep an eye on the app to get the latest information on betting odds and promotional offers.
ICC World Cup Betting Promotions
You have a lot of options on where to place your wagers, so you want to pick a provider that shows they value you as a player by rewarding you with lucrative promotional offers. That's exactly what you'll get when you play using 10CRIC.
New customers will be thrilled by the welcome bonus you receive just for signing up for your account. You'll get extra bonus funds added to your first deposit as a way of welcoming you to 10CRIC and giving you plenty of cash to start placing your bets. Your first deposit will be matched 100% up to ₹20,000.
Your rewards from 10CRIC won't end there, however. 10CRIC provides dedicated offers for every major tournament, including ICC Men's T20 World Cup promotions that cater to fans of this major cricket event. You'll get rewarded for betting on the ICC Men's T20 World Cup with 10CRIC.
These promotional offers include the Astropay bonus and BitCoin welcome offer, which cater to bettors who use these payment methods. If you place a deposit using these payment methods, you'll get extra bonus funds to start playing with.
Stay tuned to the 10CRIC website for all the details on the latest ICC Men's T20 World Cup promotions as the tournament draws closer. There are sure to be even more offers that are tailor-made for fans of this tournament.
ICC Men's T20 World Cup 2021
To help you make the best value wagers when betting on the ICC Men's T20 World Cup 2021, 10CRIC consulted a team of sporting experts to get their predictions for the upcoming tournament. That way you can have the inside track on how to place your bets.
We'll cover predictions for the overall tournament winner of the ICC Men's T20 World Cup 2021. In addition, we'll highlight some of the players who are tipped to excel in this year's tournament to predict who might be the best player of the tournament.
We've also got an analysis of the major teams vying for the World Cup. We'll take a look at title favourites like England and Australia, as well as teams with an outside chance like Sri Lanka and Bangladesh. Of course, we'll also give you an analysis of this year's host, India.
Take a look at the sections below to see all of our expert analysis so that you can get the edge when placing your own bets.
ICC Cricket World Cup 2021 Betting Predictions
We reached out to our team of experts to get their ICC Men's T20 World Cup predictions so that we can pass them on to you. That way you can make the most informed decision possible when you place your wagers with 10CRIC.
Use these ICC Men's T20 World Cup tips to help you place your wagers. With our experts' predictions and a little bit of luck, you may just walk away from a big winner at the end of the tournament.
Which Team Will Win the 2021 ICC Men's T20 World Cup? - There are a lot of strong contenders in this year's tournament. The defending champions, the West Indies, look to be strong contenders, as do five-time tournament champions Australia.
However, after considering the field of contenders, our experts are tipping England to win the 2021 ICC Men's T20 World Cup. The team had a strong showing at the last tournament, finishing as runners up to the West Indies.
Who will be the best ICC World Cup Player? Plenty of players were up for consideration in this category of our ICC Men's T20 World Cup predictions. There have been a number of standout players in international cricket in recent years.
Overall, our experts are tipping England's Dawid Malan to be the tournament's top player. He is currently the top-ranked batter in T20 cricket, and with a strong England team supporting him, he is likely to have an excellent tournament.
Of course, there are always unexpected turns in any sporting event. There are plenty of teams contending for the World Cup title and even more players that may end up as the tournament's best. However, these predictions are reasonably safe and should help you bet on the tournament favourites.
Keep these ICC Men's T20 World Cup Tips in mind as you're placing your wagers so that you can improve your chances of winning.
ICC Men's T20 World Cup 2021 Teams
A number of teams are in with a chance of winning this year's World Cup, and there are plenty of underdog contenders to consider as well. Below we'll give our analysis of some of the ICC Men's T20 World Cup teams to help you know what to expect when wagering on the tournament.
India Cricket team
With a well-established history in T20 cricket as well as the home-field advantage, big things are expected from the Men in Blue this year. Prolific batsman Lokesh Rahul is ranked second in T20 cricket's batting ranks, so opposition teams will have to keep a close eye on him.
West Indies Cricket team
The last World Cup's defending champions are sure to put up a solid defence of their title at this year's tournament. Captain Kieran Pollard will lead the way as the team tries to build on recent successes, having won two of the last three World Cup titles.
England Cricket team
With a massive international following and some of the best players in T20 cricket, England are real contenders for this year's World Cup. Captain Eoin Morgan is England's all-time leading run-scorer, adding to an already impressive roster of players.
Australia Cricket team
Having won more T20 World Cup titles than any other nation, Australia needs to be factored into predictions about every tournament. Batsman Aaron Finch has the distinction of two of the three highest individual scores at T20 internationals, making the Australian batting lineup a force to be reckoned with.
Afghanistan Cricket team
Although they are longshots among other ICC Men's T20 World Cup teams for winning the tournament, Afghanistan has a strong team that may be able to outperform the bookmakers' expectations. T20 cricket's top-rated bowler Rashid Khan is set to be a star for this team in 2021's tournament.
South Africa Cricket team
They aren't odds-on favourites this year, but South Africa always have a strong showing on the international cricket stage. With captain Faf du Plessis has retired from test cricket to focus on T20 internationals, the team will be fired up to make a big impression at this year's World Cup.
Keep an eye out for betting offers from 10CRIC for these and other ICC Men's T20 World Cup teams once the tournament gets underway. We'll keep you posted with all the latest news, betting odds and bonus promotions.