Play Premier League Cricket Online
There's a reason why tens of thousands of Indians play online Premier League cricket slot game every day here at 10CRIC and the secret lies partly in the theme of the slot itself. Even though due to copyright issues, the game isn't called Indian Premier League or IPL, this slot is clearly exactly about that very tournament, the name Premier League cricket suggesting its maker- software provider Indi Slots - are not trying too hard in order to pretend it's about something else.
Beyond that, we've got a slot as action-packed as a nail-biting game of T20 cricket with bonus features and animations that mean you can't take your eyes off it any more than you can another Rohit Sharma masterclass.
Premier League Cricket Slot Game in 10CRIC India
Everything you need to know about the game
Here at 10CRIC, we have online Premier League Cricket India available to be played on desktop/laptop, but we also have mobile Premier League Cricket meaning you can play it on the mobile device of your choice.
It's an absolute must for any cricket fan and especially one who looks forward to this wonderful T20 tournament like we do.
How to Play Premier League Cricket Slot Game on 10CRIC?
Whether you're accessing the 10CRIC Premier League Cricket Slot game via your Laptop/PC or on your Smartphone or tablet of choice, the first thing you'll need to do is find the game in the Casino. Just type in its name in the Search box and click on the image to get straight to it. There are no special tricks if you're playing on your Laptop/PC but if you're doing so on your mobile, you're strongly advised to download the 10CRIC mobile app for a better experience.
But before you do that, you'll need to make sure you have an active and funded account. Here's what to do:
Click 'Join Now' from the homepage and enter a few essential details like date of birth, first and last names and the e-mail address you want to use.
Choose a username and password. Just make sure they meet the necessary requirements in terms of length and that the password isn't too easy to second guess. Also, choose your preferred currency to play in.
Make a deposit using one of 10CRIC's several payment methods and make sure you benefit from the general 10CRIC Welcome Pack Bonus (see below).
If you have an account in 10CRIC just Login and start to win from Premier League Cricket!
But the welcome bonus and further subsequent promos on offer aren't by any means the only reason to sign up.
At the 10CRIC Casino you'll find tons of slots, a great Live Casino, all the classic table games and a few of our favourite local games, like Andar Bahar and Teen Patti.
You'll also find a site that's easy-to-use, lots of payment options, an 100% safe and secure site and FAQS to answer most of your questions, with a great Customer Service Team available to answer the others.
Premier League Cricket - 10CRIC India Bonuses

There isn't a specific Premier League Cricket bonus but the general 10CRIC Welcome Casino bonus is one of the best of any on the market: you get ₹70,000 in bonuses divided across your first three deposits.
The first one is 100% up to ₹20,000, the second 75% up to ₹25,000 and the third is 50% up to ₹25,000. You also get an additional ₹5,000 in free bets. That's a lot of bonus money to try out all the wonderful and exciting games on offer at 10CRIC, but that's not where the generosity ends.
You can also claim the General Welcome Offer that sees you get a 100% deposit bonus up to ₹10,000 plus 25 free spins on the slot, Premier League Cricket. After all, as good a game as Premier League Cricket is, it's not the only slot in the world, and this is a good chance to get to know another good slot.
*Note, these bonuses are active at the time of the last update of this page - 06.04.2020. For the active Bonuses and promotions click here
10CRIC offers further Casino bonuses, so keep an eye on the Promotions page to see what you can claim next.
Everything that You Need to Know About Premier League Cricket Casino Slot Game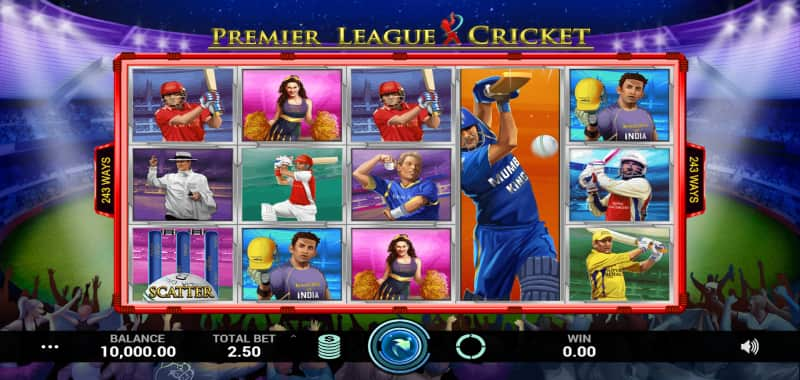 Like any other slot, playing it doesn't require a degree in rocket science but there are a few little quirks you should know about, a few limits on what you can and can't gamble and a few special features worth knowing about. After all, no two slots are exactly the same so it's worth knowing the key characteristics of each one.
In this section we'll explain how to actually play the game, the easiest ways of securing big wins and what the different symbols mean in terms of their value, plus what the two special symbols do.
Once you're done reading it, you'll be fully prepared for when the Umpire calls for play to commence!
What are the rules you need to follow while playing Premier League Cricket?
Time to talk about Premier League Cricket rules. Here are the most important ones.
There are 243 ways to win and to secure a win, you just need three or more identical symbols on consecutive reels, from left to right.
There are nine different regular symbols. The lowest-paying is the cheerleader and the highest-paying is the Royal Challengers Bangalore batsman who looks a lot like West Indian legend Chris Gayle. The Umpire (Billy Bowden) is the only symbol that isn't a player other than the cheerleader and is the fourth most valuable symbol.
The Wild Symbol- a Mumbai batsman - appears stacked on Reels 3, 4 and 5 and can substitute for all symbols except the Scatter. But it can also appear just as a single Wild symbol on Reels 1 and 2.
The Scatter symbol is represented by the stumps and can appear on any reel. Getting 3, 4 or 5 of them will give you 15, 20 or 25 free spins respectively. There's a Progressive Multiplier in play during the free spins meaning you can win multiple consecutive wins up to 10x. The free spins are where the really big wins are secured in this game.
The game has the Cascading Wilds feature that means that after any win, the symbols making up that win disappear and are replaced by other symbols, so you can secure additional wins after that first one. Theoretically, there's no limit on how many wins in a row you can get thanks to the Cascading reels.
How to Place a Bet While Playing Premier League Cricket?
To bet on Premier League Cricket Casino Slot and give yourself a chance to walk away with riches worthy of a star IPL player, you'll first need to decide on your stake (see below) and get those reels spinning.
The easiest way is to just manually click on the big circular button in the middle of the reels every time you want to play a round.
The alternative is to play in Autoplay mode.
This just involves deciding in advance whether you want to play 10, 25 or 50 uninterrupted spins without having to manually press the button. Unlike with some other slots, you can't choose for the game to stop when you win/lose a certain amount or when you activate a bonus feature. You'll have to manually bring the Auto spins to an end yourself.
How to Increase the Betting Amount?
Not satisfied with your stake ahead of the next spin? Going through a slightly bad patch and want to weather the storm by betting a smaller amount for a few spins? Or is it the opposite and after a few barren spins, you feel you're about to hit and therefore it's worth your while increasing the bet? Whatever the reasoning, increasing your bet is easy.
Moving the dial on the 'Bet Size' and the 'Bet' amounts up and down alters the stake for your next spin.
Underneath that, you'll see the Total Bet changing as you move the dial from left to right. Once it's reached the amount you want, you're good to go.
What are Limits of Premier League Cricket Slot?
The minimum bet you can place on any spin is ₹50 which you get by putting the Bet Size at 1.00 and the Bet at 1/5.
Alternatively, putting the Bet Size at 100.00 and the Bet at 5/5 means you're playing for the maximum amount of ₹25,000 per spin. That's a lot of money to be wagering on just one spin and it's always advisable to play for sensible stakes that are in line with your bankroll but then again, securing a decent win at those stakes will provide a massive pay-out.
If you want to cut to the chase, you can also just click on the symbol that looks like a stacked pile of casino chips, which will automatically place the Maximum bet without you having to adjust the amounts.
Payout
Unlike in land-based Casinos, pay-outs are automatic in that the money is yours as soon as you win it, without needing to carry a load of chips around with you! All wins on Premier League Cricket are just added to your overall 10CRIC Casino balance.
You can leave the game, change to another slot, head to the table games or maybe you fancy a visit to the Live Casino section played with real dealers, in real time.
When you're ready to cash out and make a withdrawal, just click on your username in the top right-hand part of the homepage. Then click on 'Withdrawal' and choose the payment method you wish to use for the withdrawal. There are plenty to choose from.
You'll need to fill in a couple more details, then the withdrawal request will be processed, and the money will be with you as soon as possible.
Enjoy the Premier League Cricket game with 10CRIC!