Play Lord's Balcony Slot Game Online
If you love cricket and you like slot games you can play online Lord's Balcony is the one for you! Themed around India's favourite sport and featuring the home of cricket, Lord's, this 243 ways slot game promises all the fun and excitement of watching your favourite team bowling and batting, with the added bonus of being able to win real money!
Everyone will have their reasons for loving cricket so much. That could be anything from appreciating the skill, discipline and determination of the game's great players to loving the drama and twists and turns of a typically close game. Others just love the buzz and excitement in the air during a match, especially when it's India in action.
Lord's Balcony in 10CRIC India
Everything you need to know about the game
Titles like Lord's Balcony slot games appeal to Indian players because they focus on cultural tendencies and passions, and for Indians, cricket is a firm favourite! The online Lord's Balcony India inspired slot stars batters, bowlers, wickets, umpires and celebrating spectators. When they align you stand to win big thanks to generous payouts, stacked and expanding wilds, free spins rounds and cascading wins. You can play Lord's Balcony at 10CRIC as the slot game is part of our collection of slots, this one coming to you from game provider Indi Slots, who develop Indian culture themed games. Whether you like to play on your computer, tablet or mobile phone, there's an option for you at 10CRIC. Is Lord's Balcony app accessible? Yes! Simply by downloading the 10CRIC App to your mobile device, you can play Lord's Balcony any time you fancy! Or if you prefer, you can play from your computer, tablet or mobile directly on the 10CRIC website. Let's take a closer look at this exciting cricket-inspired slot game and discover how to play, how to bet and how much you could win!
How to Play Lord's Balcony on 10CRIC?
At 10CRIC Lord's Balcony slot game is available to play any time you like from your computer, tablet or mobile phone, via the 10CRIC App or the 10CRIC website. To play Lord's Balcony at 10CRIC you need to become a member, but don't worry, it's quick, easy and free to do so! Here's how:
Click Join Now - Visit 10CRIC.com and click on the yellow Join Now button in the top right corner.
Enter Details - The registration form will open, asking you to fill in your name, date of birth and email address. Make sure these details match those on your ID, then click the Next button.
Add Address - The next page will ask for your address and phone number. Make sure these details match those on your bills, then click the Next button.
Choose Username - The final page of the registration process asks you to choose a username and password for your account, select a currency (INR by default), enter a referrer code if you have one and enter the 4-digit code displayed in the box. Be sure to tick the T&Cs box then click Create My Account.
You'll also need funds in your 10CRIC account in order to bet on Lord's Balcony, so the next step is to make your first deposit. Before you do that though, check out the Promotions Page for details of our available Welcome Bonuses. These give you extra money on top of your first deposit so you can play for even longer (and maybe win even more!). Simply enter the relevant code in the box when depositing to claim the bonus you want. Once you've added funds to your new 10CRIC account, you're ready to start playing!
Lord's Balcony Jackpot

What's the Lord's Balcony jackpot, you may ask? Good question! However there's no simple answer to that, and here's why. Lord's Balcony is a 243 ways slot game, which means wins are paid based on how many matching symbols you get on consecutive reels. Each symbol has its own value, which increases the more of them you get. In addition, symbols on winning paylines disappear and are replaced by those above, potentially triggering a cascade of wins with increasing multipliers! And that's without taking into account the extra win potential from the game's free spins, and stacked and expanding wilds! There may not be a big set jackpot to aim for in this game, but you still stand to win a lot if you trigger a cascade of wins in a row. It all depends on how those symbols land!
Everything that You Need to Know About Lord's Balcony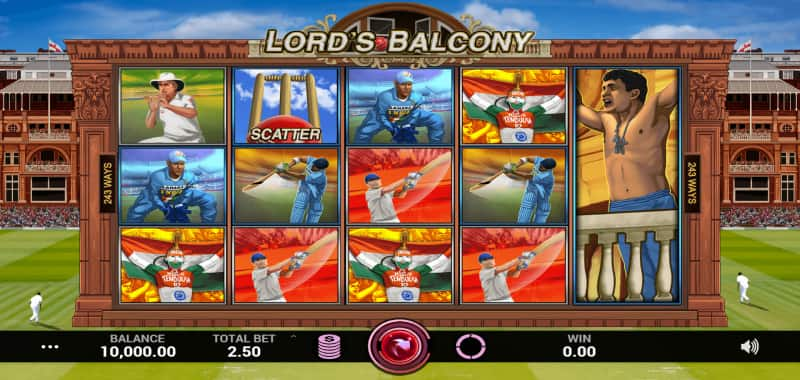 Ready to explore this cricket slot game? Before you rush off and start spinning those reels, take a moment to find out a little bit more about Lord's Balcony, it won't take long. After all, you need to be able to spot when you're about to win big, which are the symbols to watch out for and how to make your money go much further! Read on for details of Lord's Balcony rules, how to place a bet, how to increase your bet, what the limits are and how much you could win!
What are the rules that you need to follow while playing Lord's Balcony?
So what are the Lord's Balcony rules? When you open the game, look to the bottom left and you'll see three dots. Click them and a little menu will appear with 3 icons: home, clock and i. Click the "i" and the rules page will open. Here is where you'll learn what all the game's symbols pay, which are the wild and scatter symbols, how payouts work and how the free spins game works. Let's summarise these:
Spin the reels: Your goal is to try to match 3 or more symbols on consecutive reels. Lord's Balcony is a 243 ways slot, which means there are 243 ways to win!
Wild symbol: The wild symbol in this game is the topless spectator with the blue shirt in his hand. This symbol substitutes for any other symbol (except the scatter symbol) to help make up a winning line. The wild symbol can also appear stacked on reels 3, 4 and 5 for better chances of winning!
Random expanding wilds: The wild symbol can also randomly expand and cover up to any 2 of reels 2, 3 or 4 for another boost to your win potential!
Free Spins: Look out for the game's scatter symbol, the cricket ball and wicket! Find 3, 4 or 5 of them anywhere on the reels at once and you'll trigger 15, 20 or 25 free spins respectively, with consecutive wins multiplied by an increasing multiplier of up to 10x!
How to Place a Bet While Playing Lord's Balcony?
The next thing you need to know is how to bet on Lord's Balcony. Next to the three dots menu button, you'll see your Balance, and next to that is your Total Bet. Click Total Bet and a menu will pop up with Bet Size and Bet sliders. Adjust the sliders to select your bet size from 1 to 100 and your bet from 1 to 5. These two values multiply to give your Total Bet, shown in the box. This is how much you will be betting per spin. When you're happy, click the centre spin button to spin the reels!
How to Increase the Betting Amount?
What if you want to increase or decrease your bet amount on Lord's Balcony? That's easy to do too! Simply open the Total Bet menu by clicking on it. You can then adjust the Bet Size slider from 1 to 100 and the Bet slider from 1 to 5. Move the sliders up to increase your bet, and move them down to decrease your bet. Your Total Bet will change accordingly. Remember, the total bet is how much you will bet per spin. When you're happy, click the spin button to play at your new total bet value.
What are the Limits of Lord's Balcony?
Lord's Balcony, like many other slot games, has a limit on how much you can bet in one spin. This a protection measure to ensure you don't accidentally bet your entire bankroll in one spin! In this particular game, the limits are as follows: the minimum you can bet per spin is ₹50 and the maximum you can bet in one spin is ₹25,000. You are free to bet at a value that's anywhere between these two figures. That's still a very wide range of bet values to play with, giving you lots of freedom to bet as you wish!
Payout
Working out how much you will win can be complicated. Luckily, the game does it for you, but it's still good to know how those figures are calculated and where they come from. If you go back to the rules page (the "i" in the three dots menu) and scroll down to the symbol values section, you'll see all the payouts for 3, 4 and 5 consecutive symbols. These figures are specific to the total bet you have selected: if you change your total bet value, these numbers will also change. When you get a winning line, the relevant win amount will show in the Win box on the bottom of your screen before it is added to your balance.