Play Kabaddi Raiders Slot Game Online
In India cricket is, always has been and always will be, the number one sport. In fact, it goes well beyond being a sport and borders on being both a religion and a way of life. But there's a good argument to say that in the silver medal position comes Kabaddi.
Kabaddi Raiders in 10CRIC India
Everything you need to know about the game
This most Indian of sports combines speed, strength, tactics and bravery as players act alone in attack or alongside team-mates in defence to secure valuable points for their side at a club or international level within the professional game. It's not at every sport that India can claim to be the best in the world, but Kabaddi is certainly one of them and that doesn't seem like it's going to change anytime soon.
And it's not just the pros who make it such a compelling and competitive sport; it's equally popular played among friends or rival villages.
So, the chance to play Kabaddi Raiders as a slot game is too good to turn down for thousands of Indian players. You can play online Kabaddi Raiders here at 10CRIC in a game that recreates what this all-action and highly demanding sport have to offer, while also giving you the chance to try to win some valuable Rupees while securing three or more symbols mostly based on moves from Kabaddi itself. Or better still, by activating the free spins round.
This great game by Indi Slots is a tribute to a wonderfully popular sport and will instantly appeal to fans of it, though slots players with an eye for a good game, whatever the theme, will also take a shine to it.
How to Play Kabaddi Raiders on 10CRIC?
The 10CRIC Kabaddi Raiders Slot game is one of the 100s of slots you can find at the 10CRIC Casino waiting to be played. As a modern-day Casino, all the slots, table games, Live casino games and other local games such as Andar Bahar, can be played at 10CRIC either on desktop/laptop, on your smartphone by downloading the 10CRIC app, or just on your mobile browser.
Downloading the app is the second step in the process because of course, the first step is to actually open an account. Here's how to do it in a couple of minutes:
Click 'Join Now' from the top right on the homepage. Enter a few essential details like your date of birth, first name and surname and the e-mail address you want to use for the purposes of your 10CRIC account.
Next step: enter your mobile number, home address and postcode.
Choose a Username and Password. Select a Username and Password that is easy for you to remember and not so easy for anyone else to try to work out! Also, choose your preferred currency to play in.
Make a deposit using one of 10CRIC's several payment methods. We'll tell you what wonderful welcome bonuses you can get when signing up and what bonuses you can get beyond that, in just a minute.
Aside from bonuses and the chance to play Kabaddi Raiders whenever you wish, there are plenty of other reasons to sign up at 10CRIC Casino.
The Casino has been built and designed with Indian players in mind, it's easy to use and everything works quickly. Also, this is a Casino where you're really looked after. From offering you lots of payment options to providing excellent FAQs/Customer Service and always making sure your money and data are secure, this is one of those Casinos that really ticks all the boxes.
Kabaddi Raiders - 10Cric India Bonuses

There isn't a specific Kabaddi Raiders Bonus revolving around the slot itself but that's not to say that there aren't plenty of other bonuses to look forward to, some of which you can use to play…Kabaddi Raiders.
First up you can get the 10CRIC Welcome Casino bonus; one of the very best and most generous of any Casino welcome bonus available to Indian players: you get ₹70,000 in bonuses, divided across your first three deposits.
The first one is 100% up to ₹20,000, the second 75% up to ₹25,000 and the third is 50% up to ₹25,000. You also get an additional ₹5,000 in free bets. That's lots of bonus money to find out which are your favourites from among the many slots and other casino games available to play here.
You can also claim the General Welcome Offer that offers a 100% deposit bonus up to ₹10,000 plus 25 free spins on the slot, The King. Those free spins do have to be wagered on The King but the bonus money can, of course, be used to play Kabaddi Raiders, if that's what you feel like doing, though of course, you can use it on other slots as well.
10CRIC offers lots of Casino bonuses beyond these two, so check the Promotions page to see what's coming your way next.
Everything that You Need to Know About Kabaddi Raiders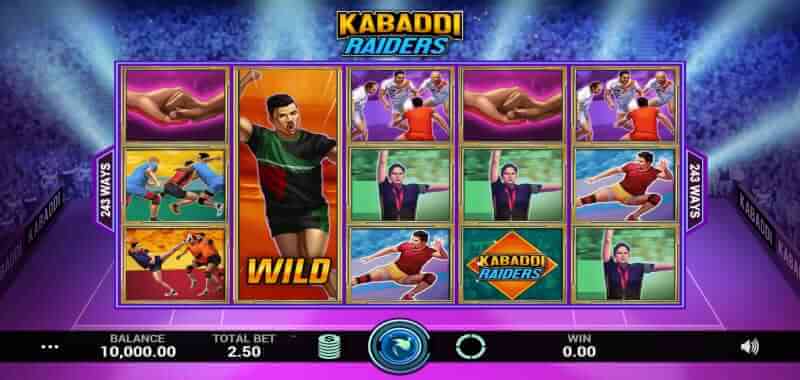 The rules of Kabaddi are more complex than what first meets the eye as they can be quite detailed and technical when it comes to some aspects of the game. Maybe you know them already but if you don't, that's not a problem because you don't actually need to!
You do however need to know the Kabaddi Raiders rules and other elements of the slot such as how to activate bonus features, which symbols are the ones you're after, max and min limits on what you can wager and how players really secure the big pay-outs in this game.
Don't worry, we won't overcomplicate things or tell you irrelevant details, but it's worth reading on, so you know what to expect when you start playing.
What are the rules you need to follow while playing the Kabaddi Raiders?
Here are the major Kabaddi Raiders rules you should be aware of:
There are 243 different ways to win in the base game. You just need to get any three (or more) identical symbols anywhere on consecutive reels.
There are nine different regular symbols, most of which are based on moves from the sport of Kabaddi. These include the Chain Formation, the Ankle Hold and the Super Tackle. The referee is a mid-value symbol, the celebrating player a low-value one with the most valuable regular symbol of all being the Kabaddi Raiders logo. Getting five of them can see you rewarded with 420 coins if you were playing for maximum stakes. In all cases, getting three, four or five of the same symbols on consecutive reels gets you a prize.
The Wild Symbol - represented by the game's MVP (Most Valuable Player) substitutes for all symbols, except for the Scatter. It can appear stacked on Reels 3,4 and 5, often helping you secure a big win but will also occasionally make a whole Reel turn Wild on Reels 2, 3 and 4, to give you a guaranteed win.
The Scatter symbol is represented by the trophy that says 'Scatter' on it and can appear on any reel. Getting 3, 4 or 5 of them will give you 15, 20 or 25 free spins respectively. There's a Progressive Multiplier in play during the free spins meaning you can win multiple consecutive wins with a Multiplier up to 10x to be applied to your final win. The free spins are your best route to getting a big pay-out all in one go.
The game has the Cascading Wilds feature that means that after any win, the symbols making up that win disappear. They're then substituted by a new set of symbols replacing the ones that disappear and you'll carry on having an additional win as long as you have new symbols making up a new winning combination.
How to Place a Bet While Playing Kabaddi Raiders?
To play this slot, you'll first need to know how to
bet on Kabaddi Raiders
. We'll come to adjusting your stake in the next section but once you've done that, it's just a case of pressing the big button in the bottom centre of the screen each time you wish to spin the reels. The alternative is to use the Autoplay mode. You can select to play 10, 25 or 50 spins automatically but unlike some other slots, you can't choose for the auto spins to come to an end when you win/lose a certain amount, or activate a bonus feature. Whatever stake is set at the time you start the Auto spins, is the amount that will be wagered per spin.
How to Increase the Betting Amount?
Some players think it's a good strategy to occasionally change their stake per spin if they think a decent or big winning combination is about to come their way. Others prefer to reduce stakes after securing a big win, while others prefer to always play for the same amount.
Whatever your reason or however much you want to play for, adjusting your stake is easy. Click on the arrow next to where it says, 'Total Bet' and move the dial from left to right for 'Bet Size' and 'Bet' until you reach the desired amount. As you move the amounts up and down, based on moving the dials from left to right, the Total Bet amount will always be clearly displayed.
What are Limits of Kabaddi Raiders?
The minimum bet you can place on a spin of Kabaddi Raiders is ₹50. The maximum bet you can place is a somewhat absurd ₹25,000, which is surely only one for the really big-hitters.
There really is no need to play for those sorts of amounts although of course, if you do happen to get 5 Kabaddi Raiders logo symbols or even just five referees, your pay-out would be enormous.
The one symbol we haven't yet mentioned is the one just to the left of the spin button that has a money sign on it. It automatically selects the max bet for you to play at without you having to manually select it.
Payout
Playing Kabaddi Raiders is just like any other slot at 10CRIC in that you can start or stop playing whenever you wish. So, if you manage to secure yourself a really big win you can just jump ship rather than hanging around and potentially losing back on the slot what you've just won.
Any win is instantly banked and then added to your overall 10CRIC Casino balance. Once you're ready to cash out your account winning just click on your username in the top right-hand part of the homepage. Then click on 'Withdrawal' and choose the payment method you want to use for the withdrawal. There are plenty to choose from including bank transfer, Skrill or card.
You'll need to provide a couple more last-minute details but once you've done that, you're good to go and you should get your money from 10CRIC pretty swiftly.