Play Jackpot Raiders Slot Game Online
If you like to play great games online, Jackpot Raiders India friendly slot is one you must try! Not only is this packed with exciting and rewarding features, but it also has an incredible 5 progressive jackpots and various collectable items that can trigger those jackpots as you play! If you're looking for a great adventure you can get stuck into, play online Jackpot Raiders. The game features 2 adventurers who are set to explore various locations in search of hidden treasures, and you'll be exploring alongside them! Jackpot Raiders slot games often have a great storyline but adding lots of winning features and 5 jackpots to be won makes this a very popular game that players just keep coming back to!
Jackpot Raiders Slot in 10CRIC India
Everything you need to know about the game
Whether you choose to play Jackpot Raiders online or prefer a Jackpot Raiders app version, there is an option for you at 10CRIC. The 10CRIC website features all our games from great providers such as the guys behind Jackpot Raiders, Yggdrasil, in a format that's compatible with all devices, from your computer to your tablet and mobile phone. And for those who prefer to get all their gaming on the go, there's the 10CRIC App, with a version for iOS and another for Android devices. Its user-friendly design, streamlined performance and easy deposits and withdrawals make this an excellent addition to any mobile device for a bit of gaming on demand!
Ready to learn how to play Jackpot Raiders at 10CRIC? Read on for all the details!
How to Play Jackpot Raiders on 10CRIC?
At 10 Jackpot Raiders, a slot game is available on our website and via the 10CRIC App, so you can play on your computer, tablet or mobile phone.
Only members can play at 10CRIC, but it's quick, easy and free to become a member simply by following the steps below:
Click Join Now - Click on the yellow Join Now button in the top right corner.
Enter Details - The registration form will open, asking you to fill in your name, date of birth and email address. Make sure these details match those on your ID, then click the Next button.
Add Address - The next page will ask for your address and phone number. Make sure these details match those on your bills, then click the Next button.
Choose Username - The final page of the registration process asks you to choose a username and password for your account, select a currency (INR by default), enter a referrer code if you have one and enter the 4-digit code displayed in the box. Be sure to tick the T&Cs box then click Create My Account.
Once you've completed the registration process, you can then make your first deposit, so you have funds to play with. First, though, check the Promotions Page for details of our latest Welcome Bonus offers. These give you extra funds to play with in addition to whatever you deposit. All you have to do is enter the relevant bonus code when depositing to get those extra funds!
Jackpot Raiders Slot - Amazing Jackpot

Did you know you can find Jackpot Raiders bonuses on the 10CRIC website? Visit the Promotions Page and you'll see a variety of special offers that you can take advantage of. Many of these give you extra funds to play with in the form of bonuses, like our Weekly Reload. These are handy to have when you decide to make a deposit as they give you an extra amount in bonus funds on top of whatever you decid
Offers as Slots Cashback Wednesdays give you money back as a bonus that you can then use to play a bit longer on the games you love. There is always something rewarding waiting for you on our Promotions Page so be sure to bookmark it and check back often for the latest offers!
Everything that You Need to Know About Jackpot Raiders Slot Game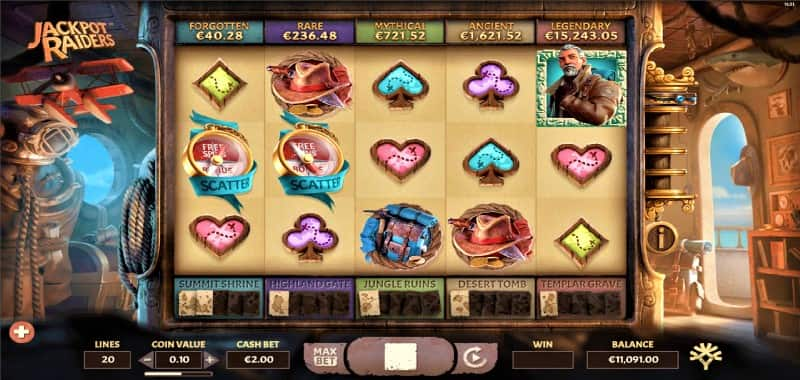 Want to know how to trigger this game's collection of features? How about learning how to win one of those 5 juicy jackpots? You'll learn all this and more just by reading on! You'll find out all about the rules of Jackpot Raiders, including how to collect the special items that unlock those jackpots! You'll also learn how to place a bet on this slot game, how to change that bet amount, what the limits of the slot game are and how the payouts work. Ready to find out more? Read on!
What are the rules of Jackpot Raiders Slot Game?
Let's check out the Jackpot Raiders rules (accessible via the "i" symbol on the left in the game) and how to win one of those 5 jackpots:
Spin the reels: Your aim in this game is to match 3 or more symbols along any of the 20 paylines
Scatter compass: Look out for this game's scatter symbol, the compass, as it unlocks a variety of features…

2 Scatter Compass symbols unlock the Pick and Click Chest Game where you could win up to 80 coins, access to the Free Spins or Treasure Hunt Bonus Game, or a collectable map
3 or more Scatter Compass symbols that fall on Free Spins award 10 Free Spins with up to 10,000 coins
3 or more Scatter Compass symbols that fall on Bonus award access to the Treasure Hunt Bonus Game with up to 10,000 coins

Treasure Hunt Bonus Game: Unlock this and you'll get to pick one of the two adventurers to take one of three routes to a chest for up to 1,800 coins, a collectable map or a Sunken City Free Spins relic
Collectable maps: Collect 5 identical maps to get 10 Free Spins and a Jackpot Gem. You'll find maps in the Pick and Click Chest Game and the Treasure Hunt Bonus Game.
Sunken City Free Spins: Collect 5 relics in the Treasure Hunt Bonus Game to unlock free spins with 10x win multipliers and a Jackpot Gem
Jackpot Gems: Collect 5 of the same Jackpot Gems and you'll win the corresponding jackpot! Jackpot Gems can be found by collecting maps and relics.
How to Place a Bet While Playing Jackpot Raiders?
To bet on Jackpot Raiders is as simple as spinning the reels. Each spin is the same as placing one bet. In the bottom left of the game, you'll see an option to select the Coin Value. This is multiplied by the number of paylines in the game (20) to give your total bet per spin, as shown in the box to the right. Click that box to switch between Cash Bet and Coin Bet. Select the Coin Value you wish to use until you're happy with your total Cash Bet or Coin Bet as shown, then hit the brown spin button in the centre to spin the reels at the chosen bet amount.
How to Increase the Betting Amount?
Increasing your bet amount on Jackpot Raiders is also very simple. Just use the - and + arrows to the left and right of the Coin Value option to choose a new coin value. Remember, this is then multiplied by the number of paylines (20) to give your total bet per spin is shown in the Cash Bet/Coin Bet box. Choose a bet value that you're happy with then when you're ready, simply hit the brown spin button in the middle to spin the reels at your newly selected bet amount per spin.
What are the Limits of Jackpot Raiders?
Jackpot Raiders is a fantastic game but there are limits regarding how much you can bet in a single spin. This is a protective feature that prevents players from betting too much at once or possibly accidentally betting their entire bankroll, something that obviously should be avoided. In Jackpot Raiders, your minimum bet is ₹5 and the maximum you can bet in a single spin is ₹2,000. These limits are not too restrictive, so they still allow you a lot of freedom in terms of how much you're allowed to bet in one spin.
Payout
How much you're paid per spin is worked out by multiplying the number of symbols matched, the value of those symbols, and your bet amount. This total is added to the Win box on the bottom right of your screen. This calculation is done for every winning line in that spin, with the total win amount then added to your balance as shown. When you're done playing Jackpot Raiders, your balance will be updated on the 10RIC site or in the App accordingly. Start your next adventure in Jackpot Raiders now!