Play Extra Chilli Megaways Slot Game Online
A great reason to play online Extra Chilli Megaways is a spicy slot game offering you a colourful and rewarding ride with incredible 117,649 ways to win! The game is set in a South American food market, with the reels set in a stall surrounded by garlic bulbs and colourful chillies. Titles like Extra Chilli Megaways slot games are incredibly popular due to their variety of rewarding features, unique themes and exciting gameplay, offering wonderful escapism from the monotony of everyday life and the chance to win big cash amounts!
Extra Chilli Megaways in 10CRIC India
Everything you need to know about the game
Whether you like to play on mobile or online Extra Chilli Megaways India friendly access points are available via the 10CRIC website or you can play the Extra Chilli Megaways app version by downloading the 10CRIC App to your mobile device. This fun slot game comes to you from popular games provider Big Time Gaming who are well known for their Megaways game mechanism that awards wins based on any consecutively matched symbols rather than along set paylines, giving you many more ways to win than your typical slot game.
Play Extra Chilli Megaways at 10CRIC and you'll enjoy a superb gaming experience anytime from your computer, tablet or mobile on the website, or from any iOS or Android mobile device via the 10CRIC App.
Keen to learn more about this fiery slot game? Read on for everything you need to know about the game so you can focus on enjoying it!
How to Play Extra Chilli Megaways Slot Game on 10CRIC?
At 10CRIC, Extra Chilli Megaways slot game is available to play on your computer, tablet or mobile phone via our website or by downloading the 10CRIC App. First, you need to open an account at 10CRIC but this is free and easy! Simply follow these steps:
Click Join Now - Visit 10CRIC.com and click on the yellow Join Now button in the top right corner.
Enter Details - The registration form will open, asking you to fill in your name, date of birth and email address. Make sure these details match those on your ID, then click the Next button.
Add Address - The next page will ask for your address and phone number. Make sure these details match those on your bills, then click the Next button.
Choose Username - The final page of the registration process asks you to choose a username and password for your account, select a currency (INR by default), enter a referrer code if you have one and enter the 4-digit code displayed in the box. Be sure to tick the T&Cs box then click Create My Account.
Do you have an account already? - If you have a 10CRIC account you can log in and start to play the amazing Extra Chilli Megaways slot game.
Next step is to make your first deposit so you have funds to play the game. Before you deposit, check the Promotions Page for the Welcome Bonuses we have available that will give you, even more, to play with on top of whatever you deposit! Simply make your first deposit using the relevant bonus code and your account will be credited.

Before you play Extra Chilli Megaways bonus offers are available to you that will give you extra funds to play with. These start with your first deposit at 10CRIC as a welcome bonus, but you can also get extra funds to play with thanks to our other regular bonus offers, such as reload bonuses.
If you're a fan of slots you'll love 10CRIC's Casino Welcome Pack, which offers you a total of ₹70,000 in extra bonus funds and ₹5,000 in Free Sports Bets! Our Weekly Reload also offers you up to ₹10,000 extra in bonus funds that you can claim every week, keeping your balance topped up so you can keep playing the games you love.
Also, check out Slots Refund Wednesdays that give you money back as a bonus just for playing your favourite games. You can find details of these and many other special offers on the 10CRIC Promotions Page.
Everything that You Need to Know about Extra Chilli Megaways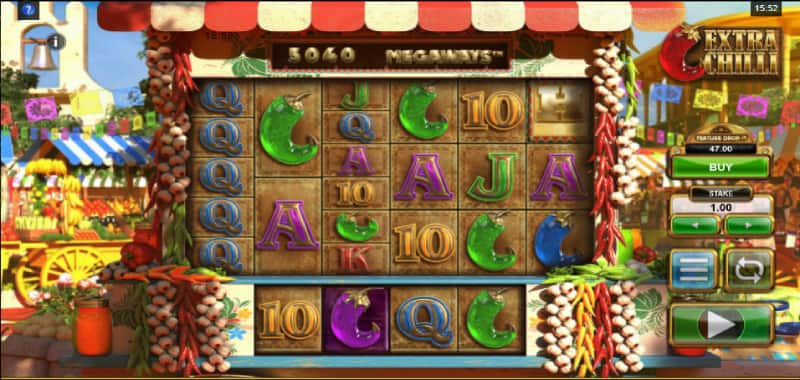 Back to our spicy Extra Chilli Megaways slot, let's take a look at everything you need to know about this awesome game. This slot is quite unique so it makes sense to spend a little bit of time learning about how the game actually works before jumping in. That way you're more likely to enjoy the gameplay instead of ending up confused! Read on to learn about the rules of Extra Chilli Megaways, how to place a bet and increase your bet, what the limits are and how to win.
The Bollywood Story rules determine how the game is played and what happens when certain symbols appear. For the most part, it's all automatic and not something you need to worry too much about but here is the crucial details anyway:
Spin the reels: Your goal is to try to match 3 (2 for the purple chillies!) or more symbols on consecutive reels. Each time you get a winning line, the symbols in that line will disappear and will be replaced by symbols from above, which could trigger a chain reaction of wins! Extra Chilli Megaways is a Megaways slot, which means there are 117,649 ways to win!
Wild symbol: The wild symbol in this game is the collection of fireworks. This symbol substitutes for any other symbol (except the scatter and feature drop symbols) to help make up a winning line.
Free Spins: Look out for the game's gold scatter symbol! Find 3 of them anywhere on the reels at once and you'll trigger 8 free spins, with consecutive wins multiplied by an increasing multiplier! In addition, watch for the pot of chillies free spin scatter symbol in the single row reel at the bottom, with 3 or 4 of them adding an extra 4 or 8 free spins respectively!
Free Spins Gamble: Before the Free Spins feature starts, you'll get to spin the wheel to gamble your free spins with the chance to multiply them into 24 free spins!
Feature Drop: You can 'buy' the feature at any time for the price shown by clicking the green Buy button under the Feature Drop section on the right. Finding the golden BTG feature drop symbols on the reels will reduce the feature drop price.
How to Place a Bet While Playing Extra Chilli Megaways Slot?
To bet on Extra Chilli Megaways, look to the right of the screen when the game is open and you'll see at the top there is the Feature Drop option. Directly underneath that is the Stake section where you can choose how much you want to bet per spin. Your current stake is shown in the box and the green arrows pointing left and right allow you to adjust your stake up or down. Select a stake that suits you then click the green Play button at the bottom to spin the reels at that stake.
How to Increase the Betting Amount??
In order to increase the amount you bet on Extra Chilli Megaways, you need to adjust your stake. In the right area under Stake, you can see how much your current stake is. Use the green left and right arrows to increase or decrease your stake. You can choose between ₹10 and ₹400 as your stake. This is how much you will bet per spin. When you're happy with your stake, simply click the green Play button to spin the reels at the stake you've selected
Extra Chilli Megaways has limits in terms of how much you can bet in a single spin. This is to protect players from accidentally betting their entire bankroll in one spin by accident! This is another good reason to learn about the game beforehand! In this slot game, your stake is limited to a minimum of ₹10 and a maximum of ₹400 per spin. This is still a fairly broad range, giving you the freedom to bet small or large and win accordingly as you see fit.
Payout
When you get a winning line of symbols, your payout is worked out depending on the value of the symbol, how many of those symbols you've matched, and your stake. These values are multiplied together to give you your win amount. You'll see this winning amount in the Wind section in the bottom right corner of the screen before it's then added to your balance as shown on the left of the screen. When you exit the game, your balance will be updated on the 10CRIC website to reflect your gameplay. Have fun playing Extra Chilli Megaways!