Play Diwali Lights Slot Online
Diwali Lights Slot is a beautifully designed game based on the theme of Diwali, as the name suggests. Featuring lanterns, firecrackers, candles, riches and offerings of food and flowers, this online Diwali Lights India inspired game brings you the magic of one of the country's most celebrated festivals anytime you want to experience it!
Diwali Lights in 10CRIC India
Everything you need to know about the game
This is why many 10CRIC members love this particular game so much as it reminds them of happy times, celebrations, fun and excitement, with the added bonus of being able to bring real riches home with you too! If you like to play online Diwali Lights is part of 10CRIC's selection of slot games. This one is brought to you by game developer Indi Slots, who have a small but growing collection of Indian culture themed games.
You can get Diwali Lights app access on your mobile phone or tablet by downloading the 10CRIC App on Android or iOS. That means you can enjoy mobile Diwali Lights gameplay anytime, anywhere! Or you can choose to play Diwali Lights on your computer or mobile device via the 10CRIC website: the choice is yours! Ready to learn more about this colourful, Indian culture themed slot game? Read on!
How to Play Diwali Lights on 10CRIC?
In order to play the 10CRIC Diwali Lights slot at the 10CRIC website on your computer, phone or tablet, or using the 10CRIC App on your mobile devices, you need to be a registered member. Don't worry though, it's very quick, easy and, best of all, free to open a new 10RIC account! Just follow these simple steps:
Click Join Now - Visit 10CRIC.com and click on the yellow Join Now button in the top right corner.
Enter Details - The registration form will open, asking you to fill in your name, date of birth and email address. Make sure these details match those on your ID, then click the Next button.
Add Address - The next page will ask for your address and phone number. Make sure these details match those on your bills, then click the Next button.
Choose Username - The final page of the registration process asks you to choose a username and password for your account, select a currency (INR by default), enter a referrer code if you have one and enter the 4-digit code displayed in the box. Be sure to tick the T&Cs box then click Create My Account.
You Have an account in 10CRIC? - That is great! Just login and start to play Diwali Lights slot game!
Every new member of 10CRIC is offered a Welcome Bonus and there are several to choose from. To take a look at what's on offer, be sure to check out the Promotions Page for all available sport, casino and live casino welcome bonus offers. These generally require you to enter a code when making your first deposit. Since you need to add funds to your new 10CRIC account anyway, might as well get more for your money with a bonus too!

Diwali Lights Jackpot
What is the Diwali Lights jackpot? Well, this game is a 243 ways slot, which means wins are paid according to matched symbols on consecutive reels. On top of that, symbols from winning paylines disappear and are replaced by those above, giving you the potential for a chain reaction of wins!
What does this mean in terms of winning big money? Well, there's no limit really to how much you can win! It's not as simple as triggering a big jackpot or simply matching high-value symbols. The game's free spins feature and chain reaction win multipliers can really push the win potential of this game through the roof!
For maximum big money chances, simply bet big and look out for the game's feature symbols. As with many slots, Diwali Lights has special features and bonus rounds that can help you win even more.
Everything that You Need to Know About Diwali Lights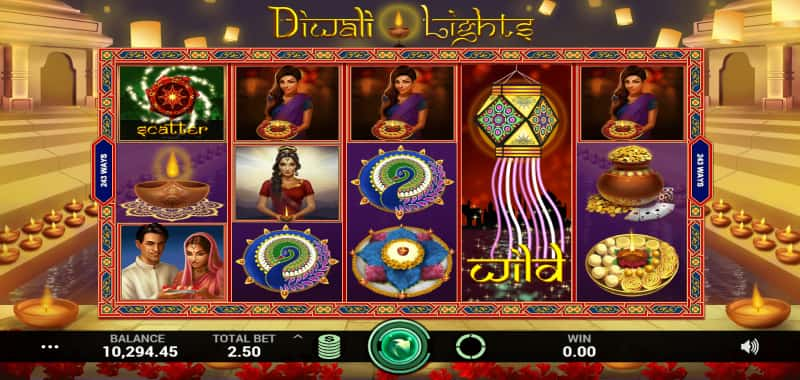 Diwali Lights sounds like a nice slot to try, don't you think? It certainly is! But before you open the game, let's take a quick look at what it's all about. It's best to be aware of how the game actually works before jumping right in.
Next, we'll take a look at the rules of Diwali Lights, how to place a bet, how to increase your bet, what the limits of this game are, and what you can expect in terms of payouts. Let's take a closer look.
What are the rules you need to follow while playing Diwali Lights?
It's important to familiarise yourself with the Diwali Lights rules. Why? So you know what's going on, what you can and can't do, how the game actually works and when you hit a win! Firstly, when the game is open, you can find the rules by clicking on the three dots on the left of the screen and choosing the "i" symbol. This will take you to the rules page, which we'll summarise here:
Spin the reels: The aim of this slot game is to try to match 3 or more symbols on consecutive reels. It's a 243 ways slot, which means there are 243 ways to win!
Wild symbol: This game's wild symbol is the three tasselled lanterns. This symbol substitutes for any other symbol (except the scatter symbol) to help make up a winning line. You'll also find the wild symbol stacked on reels 3, 4 and 5 for better chances of winning!
Random expanding wilds: That same wild symbol can also randomly expand and cover up to any 2 of reels 2, 3 or 4 for another boost to your win potential!
Free Spins: Look out for the game's scatter symbol, the fireworks wheel! Find 3, 4 or 5 of them anywhere on the reels at one time and you'll trigger 15, 20 or 25 free spins respectively, with consecutive wins multiplied by an increasing multiplier of up to 10x!
How to place a bet while playing Diwali Lights?
So how do you actually bet on Diwali Lights? It's very easy. To the right of the three dots menu, you'll see your balance and to the right of that, you'll see Total Bet, with an upwards arrow next to it. Click that upwards arrow and a menu will pop up showing you two sliders below Bet Size and Bet. Simply adjust these sliders and you'll see your Total Bet value change too. This is how much you will bet per spin of the reels.
Adjust the sliders until you have an amount you're happy with, then click the spin button in the centre to spin the reels!
How to increase the Betting Amount?
Increasing the betting amount on Diwali Lights is just as simple as choosing how much to bet. Simply click the Total Bet upwards arrow to open the little popup menu. Slide the Bet Size, Bet or both sliders until the Total Bet changes to a value you are happy with. Bear in mind here that the Total Bet value is the amount you will bet per spin of the reels. It is worked out as the result of multiplying your chosen Bet Size value by your chosen Bet value.
Once you've adjusted your Total Bet to the desired amount, simply click that central spin button to spin the reels at the new bet amount.
What are the Limits of Diwali Lights?
The Bet Size and Bet values, and as a result, the Total Bet value, you can make are limited in Diwali Lights. This is to protect players from accidentally betting too much money in one spin of the reels.
By adjusting the sliders to their minimum and maximum points, you can see that the minimum you can bet per spin is ₹50 and the maximum bet per spin is ₹25,000. As you can see, that is still a very wide range of bet amounts within which you can enjoy the game!
Payout
So how do Diwali Lights actually payout? As mentioned before, you win money when you match 3 or more symbols on consecutive reels. How much you win will depend on the value of those matched symbols. You can check the symbol values on the rules page, in the three dots menu under the "i" symbol. The symbol values will change according to how much your current Total Bet is, so what you see are the exact payouts for your current settings.
When you get a winning line, that line will be highlighted and the winning amount will show in the bottom bar section called Win, before being added to your balance.