Play Cricket Star Slot Game Online
If we need to explain why a slot based around cricket is so popular in India, then you've probably never been to India! Slots are a popular form of gambling among Indian customers and the chance to Play Online Cricket Star where the bats, balls, gloves, stumps, umpires and players that captivate a whole nation all year-round are such an integral part of the slot, is too hard to resist. Here you will learn everything you need to know about the online Slot Game Cricket Star.
Cricket Star in 10CRIC India
Everything you need to know about the game
But then again, it's not solely about it being themed around cricket. Other cricket-related slots have come and gone before this one, yet thousands of Indians Play Cricket Star every day.
The first clue to its popularity might be that the whole experience is first class. From the in-game sounds of the passionate crowd, to the fact that almost all major cricketing nations are represented as symbols, to the various features, there's a lot going on and as you'd expect from a Microgaming slot, it's all classy stuff.
In addition to giving it a go online from their computers, players will also enjoy the option of playing the mobile Cricket Star version using their Smartphone.
It means that wherever you are, so is the chance to hit some beautiful cover drives and take some outstanding catches, while being able to win lakh rupees.
How to Play Cricket Star on 10CRIC?
Before you get stuck in, there are a few bits of preparation needed. No different to a batsman getting all his equipment together, batting against a few throwdowns and doing a few warm-up exercises before arriving at the crease.
First up, you'll need to register your account. It will take no longer than an over in a game of cricket.
Click 'Join Now' and enter personal information like date of birth, first and last names and e-mail address.
The next thing 10CRIC needs you to do is choose a username and password. They can be cricket-related or not at all! Also, choose your preferred currency.
Make a deposit using one of 10CRIC's several payment methods and benefit from the Casino Welcome Pack Bonus. You get ₹70,000 in bonuses spread across your first three deposits. The first one is 100% up to ₹20,000, the second 75% up to ₹25,000 and the third is 50% up to ₹25,000. You also get an additional ₹5,000 in free bets. And that's' even apart from the regular 10CRIC Welcome Bonus, which you can also claim.
Once your account is ready you are ready to dive into the amazing action of Cricket Star! If you want to play this or any slot from 10CRIC you can download the 10CRIC app which will allow you to play it whenever and wherever you wish.
Cricket Star Jackpot

One of the things that you're advised to do before starting to spin is to check the game's pay table. It will tell you what all the different winning combinations award you with. For example, the South African batsman hitting a sweetly timed drive is the highest paying when it comes to a winning combination of regular symbols.
It will also tell you that you can win 105,000 times your stake. The way of doing that is to activate the free spins.
You can be awarded with 15, 20 or 25 free spins so your best chance of nailing the Cricket Star Jackpot is to get 25 of them. During the free spins, with each collapse (when you secure a win that causes the symbols to collapse), a Multiplier will increase by 1X. So, if you get the Multiplier all the way up to the maximum of 10x, followed by a really big winning combination, that's your best chance of pocketing the big one.
Everything that You Need to Know About Cricket Star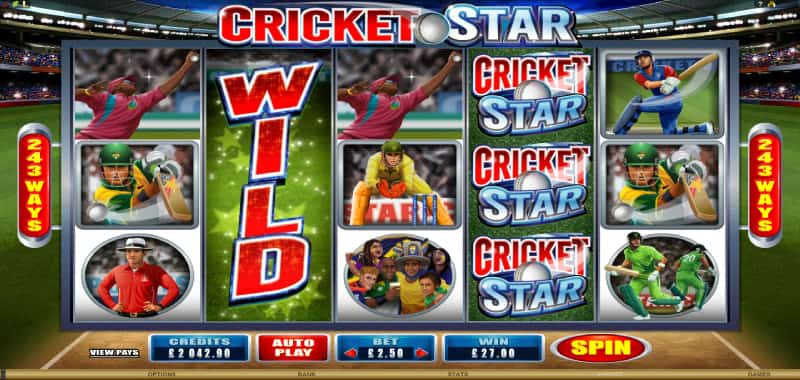 So far, we've told you how to open and fund a 10CRIC account, what welcome bonus you can get and the different ways you can access this brilliant slot - PC, Laptop, Smartphone App and mobile web browser.
We've told you why this game has gone down so well with Indian players and what the maximum amount you can get is in terms of the game's Jackpot, not to mention how to actually win the Jackpot.
Next up we'll tell you the basics of the game, how to increase or decrease your bet size, acceptable stakes and anything else you might find useful before padding up and facing your first ball.
What are the rules you need to follow while playing the Cricket Star?
Few games have as many rules as cricket and even fewer have as many complicated rules as cricket. Try explaining the LBW law to someone who doesn't understand the game or Duckworth-Lewis-Stern when the rain comes. Thankfully, the Cricket Star rules are a lot simpler. Let's go through them.
Cricket Star Slot Game Rules
You spin the reels either by using the Spin button the Autoplay function where a predetermined number of spins are played automatically.
There are 243 different ways to win in the base game.
After each win, the symbols making up that win will disappear and are replaced by others which in turn can lead to another win and even more symbols being replaced. This is known as cascading reels.
The Wild appears fully stacked on one or more reels and says 'Cricket Star' on it. It can substitute for any other symbol, bar the Scatter.
Speaking of which, the Scatter is a white cricket ball (it also says Scatter on it) and three, four or five of them on the reels are what activate the 15, 20 or 25 free spins we talked about earlier. Sadly, the Multiplier may increase with each consecutive win, but it also resets after a spin that isn't a winner.
Occasionally a random feature called the Wild Wickets feature appears. Three stumps appear on Reels 2,3 and 4. A ball appears from nowhere, knocks one of the stumps down and the reel in question turns Wild for the next spin.
How to Place a Bet While Playing a Cricket Star Slot Game?
You have two very simple options. The first is just to press the Spin button ahead of each spin manually and keep on doing so.
The other option is to use the Autoplay feature. If you want to keep things simple, just choose a number of spins you want to be played automatically: 5, 10, 15, 25, 100, 250 or 500. If you want to get a bit more complex, you can choose for the auto spins to stop when you secure a win that equals or exceeds a certain number of coins. Unlike in other slots, activating a bonus feature will automatically bring the Auto Spins to a halt.
How to Increase the Betting Amount?
Click on where it says Bet. Adjusting the number of coins and coin size up and down, it will change the amount you're going to bet on the next spin, which is a figure in Rupees.
Just use the right arrow on the Coin Size and Coins to increase your bet size. Alternatively, you can just use the red arrow on the Bet part to directly increase the amount in Rupees.
What are the Limits of Cricket Star?
Following on from what we just said, the minimum bet is 1 Coin at Coin Size 1 which comes to ₹50. Betting 10 Coins at Coin Size 10 would give you the maximum possible stake per spin, which is ₹5000.
For interest's sake, this is a slot considered to be of low volatility, which means that the slot tends to pay out lots of small wins, rather than fewer wins but for much higher amounts. The result is that a session of playing the game should mean you typically neither win a huge amount, nor lose one.
Payout
Unlike a land casino where you take your chips to the cashier and get paid out in cash (or occasionally a check) when you're ready to leave, here it's all automatic.
In other words, all wins banked by playing Cricket Star are just added to your overall 10CRIC Casino balance. You can leave the game, play another slot, come back and play this one, whatever you like.
When you're ready to cash in your winnings, just click on your username in the top right-hand part of the homepage, click on 'Withdrawal', choose what banking method you want to use to receive the money, fill in a couple more details and the withdrawal request will be processed.