Mega Moolah is one of the most popular jackpot slot games on the internet, giving players the chance to win life-changing amounts of money in just a single spin!
Mega Moolah in 10CRIC India
Everything you need to know about the game
But why is it so popular? One reason is due to its simplicity – Mega Moolah is a very simple game. Anyone can open the game and start playing and enjoying it in just a few seconds thanks to its appealing layout, easy gameplay and attractive features. But another reason is the massive amounts of real money that can be won in a very short space of time when you play online Mega Moolah. That's down to the game's progressive jackpots, which increase over time as people play Mega Moolah.
The mega jackpot regularly reaches mind-blowing heights in the millions, even tens of millions!
Whether you're playing on your computer, tablet or mobile Mega Moolah is available to everyone.
Is online Mega Moolah India friendly? Thanks to 10CRIC, as the game, features in our slots collection.
Is Mega Moolah app-friendly? Yes indeed, it's available to play via 10CRIC's mobile app, making it a good choice to earn real money when you're out and about.
Let's take a closer look at what playing Mega Moolah at 10CRIC can offer you.
How to Play Mega Moolah on 10CRIC?
At 10CRIC Mega Moolah is available to play on your computer, tablet and mobile phone and is a popular choice with many of our players. If you're keen to try this exciting big real money slot game at 10CRIC, you'll need to register first, but don't worry, it's a very simple process that can be completed in just a few easy steps:
Click Join Now - Visit 10CRIC.com and click on the yellow Join Now button in the top right corner.
Enter Details - The registration form will open, asking you to fill in your name, date of birth and email address. Make sure these details match those on your ID, then click the Next button.
Choose Username - The final page of the registration process asks you to choose a username and password for your account, select a currency (INR by default), enter a referrer code if you have one and enter the 4-digit code displayed in the box. Be sure to tick the T&Cs box then click Create My Account.
If you already have an account - Just login and enjoy the best online slot game - Mega Moolah
Once you've done that, you're ready to make a deposit with one of the many payment methods we have available to add funds to your new account. Remember that you can also claim one of our Welcome Bonuses to get extra cash to play with on top of your bonus amount. Then you can open the Microgaming Mega Moolah slot and start playing!

Mega Moolah Jackpot
As mentioned before, one of the most attractive features of the Mega Moolah slot is its immense mega jackpot that is constantly increasing! But did you know that this slot has four progressive jackpots? Here's a quick look at each of them:
Mini: Starts at 10 coins
Minor: Starts at 100 coins
Major: Starts at 10,000 coins
Mega: Starts at 1,000,000 coins!
As people play the game, these jackpots increase in value. When someone wins the jackpot, the amount resets to the starting value and begins climbing again.
But how do you win one of these four Mega Moolah jackpots? The answer to that question is simple: you play the game! At any point during gameplay, the Mega Moolah Jackpot Wheel could appear, allowing you to spin for a chance of winning one of those jackpots! That's the great thing about this slot game, it doesn't matter how long you've been playing, anyone can win at real money any point. It's completely random!
Everything that you need to know about Mega Moolah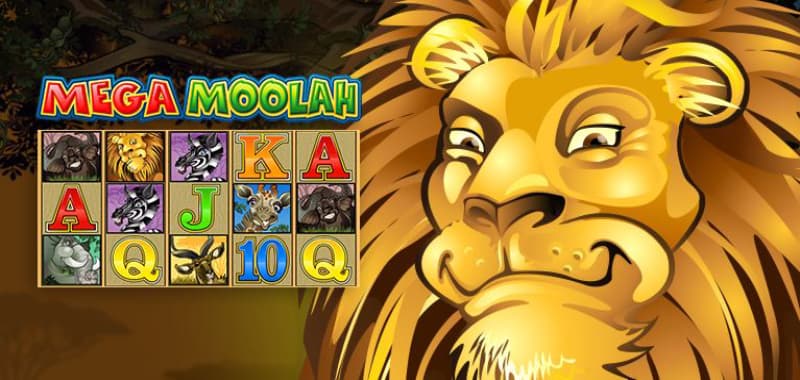 So let's get a little closer to this amazing slot game that everyone talks about and see how it works. Curious about the rules of the game and how to play it? Wondering how to place a bet or even bet more on this magical Mega Moolah slot? Keep reading and you'll find out this and more, including the limits of Mega Moolah and the payout process if you win.
What are the rules you need to follow when playing the Mega Moolah?
Playing the game is easy when you know how. There are Mega Moolah rules that determine how much you win if you match a line of symbols, how the bonus feature is triggered, etc. When the game opens, you'll find these rules by clicking the brown button on the left that says View Payout. Let's take a look at them:
Progressive Jackpots: This page explains the Mini, Minor, Major and Mega progressive jackpots. A Mega Moolah Jackpot Wheel can appear at any point during the game, offering you the chance to spin it to win one of the progressive jackpots. Use the Next button at the top of the page to go to the next rules page.
Scatter and Wild symbols: Here you'll find details of the Scatter and Wild symbols. If three or more monkey scatters symbols land on the reels after a spin, you will win 15 free spins with any wins tripled. The Lion symbol in this game is the Wild symbol, which means it can act as any other symbol (except the Scatter symbol) to make up a winning line for you. At the bottom of this page, you'll see how each of the 25 pay lines is laid out in the game.
Game symbols: The third page shows you all the game's symbols and how much you can win by matching various numbers of these symbols along any of the game's pay lines from left to right. For example, four zebra symbols on any one payline will win you 100 coins.
How to place a bet while playing Mega Moolah?
Once you understand the rules of the game, the next step is choosing how much you want to bet on Mega Moolah. This is also very easy to do.
First, choose how many paylines you want to play. Mega Moolah is a 25 payline slot game, but you can play as few or as many as you like by clicking Select Lines or by clicking the number to the right or left of the reels.
Then choose a value per coin using the + and - arrow buttons, and choose how many coins to bet per payline by clicking Select Coins. To play the maximum amounts per coin and payline, simply click Bet Max. When you're happy, click Spin!
How to increase the betting amount?
There are a couple of different ways to change how much you bet per spin on Mega Moolah.
One way is to change the value per coin by using the + and - arrow buttons.
Another way you can change the betting amount is by changing how many coins you bet per payline, selecting a value from one to five.
You can also increase your betting amount by ensuring you're playing all 25 paylines by clicking the Select Lines button or clicking 25 to the right of the reels.
Remember that a quick way to do all this is by clicking the Bet Max button too! Why would you want to increase the bet amount? Because the more you bet on this game, the better your chances of winning a progressive jackpot!
Limits of Mega Moolah
There are limits regarding how much you can bet on Mega Moolah per payline and per spins. There is also a limit on the value per coin that you can choose. These measures are in place to protect players, to make sure you don't accidentally spend too much money in one go. Having said that, the limits are still pretty generous in that you can bet quite a large amount in one spin if you want to! The value per coin that you can select ranges from a minimum of 0.5 to 2.00. You can choose from one to five coins per payline. And you can choose to play from one to 25 paylines. Multiplying your coin value by the number of coins per line than by the number of paylines you're playing will give you your total bet amount per spin, which is conveniently displayed next to Bet, so you don't have to work it out!
Payout
Remember the rules pages in the game? Refer to these at any time when you want to check on the details, including the payout values. Depending on the number of matching symbols you get in any one payline, you'll be awarded a payout. The higher the value of the symbol, the bigger your payout. How much you bet will also affect how much your payout will be. After every spin, the game will look at how many matching symbols you've got per payline, add them all up and award you a final total for that spin. You'll see this displayed in the win box before it's added to your credits. When you're finished playing the game, everything you've won will be visible in your account balance, which you can use to play other games or cash out!