Indians and cricket go hand in hand like coffee and cake, or chips and Ketchup. So, if there isn't any cricket on, the next best thing is to play a slot that's all about cricket and features the elements of the game that we all love. 10CRIC gives you online God of Cricket India, one of the few slots dedicated to our beloved game and one that does a good job of replicating the skills, fluctuations and drama of a game of international cricket.
God of Cricket in 10CRIC India
Everything you need to know about the game
You can play online God of Cricket online by accessing it on your laptop or PC as well as playing the mobile God of Cricket version, which is done by playing the game on the Smartphone or tablet of your choice.
The advantage of playing on your mobile is that there's no such thing as an inconvenient place to be. Wherever you are, so is God of Cricket and the Wilds, bonus features and special symbols that have made this one of the most popular slots at the 10CRIC casino.
Fans of it will also point to the infectiously catchy music that accompanies it and the simplicity of it as reasons for giving it a go.
How to Play God of Cricket on 10CRIC?
Being an international cricketer takes years of moving up through the ranks and hundreds of hours spent in the nets and on the training ground to get to the stage where you've honed your skills in order to be prepared to take on the world's best.
Fortunately, playing 10CRIC God of Cricket is much quicker to get to, the main pre-requisite is that you have a functional, active and funded 10CRIC account. If you don't, here's what to do:
Click 'Join Now' and enter personal details like date of birth, first and last names and your preferred e-mail address.
Choose a username and password. It can be just about anything you like as long as it's not offensive and that there isn't already someone else with that username. Also, choose your preferred currency.
Make a deposit using one of 10CRIC's several payment methods and make sure you benefit from the Casino Welcome Pack Bonus. You get ₹70,000 in bonuses spread across your first three deposits. The first one is 100% up to ₹20,000, the second 75% up to ₹25,000 and the third is 50% up to ₹25,000. You also get an additional ₹5,000 in free bets. Claiming the Casino Welcome bonus doesn't mean you can't get the main, regular 10CRIC Welcome Bonus. You can get that one, too.
If you have an account, please Login and enjoy this amazing game.
*The bonus is available during this page is updated: 25.03.2020, to find out the latest Welcome Casino Bonus click here.
Once your account is funded, you can download the 10CRIC app which will allow you to play this slot and any others with real money, plus a load of table games, on the go. You can also play God of Cricket on the mobile browser, or on your PC/Laptop.
God of Cricket - 10Cric India Bonuses

We've already mentioned the Casino Welcome bonus where you can get up to ₹70,000 in deposit bonuses across your first three deposits. *
The main 10CRIC Welcome bonus gives you a 100% deposit bonus up to ₹10,000 and because God of Cricket isn't the only slot in town, you'll also have 20 free spins to use on The King, another good game to get stuck into.
Other Casino bonuses at 10CRIC include a 150% bonus up to ₹20,000 on your first deposit used to play Live Casino and a loyalty bonus just for playing Live Casino during the previous week, as long as certain requirements are met.
*The bonus is available during this page is updated: 25.03.2020, to find out the latest Welcome Casino Bonus click here.
Everything that You Need to Know About God of Cricket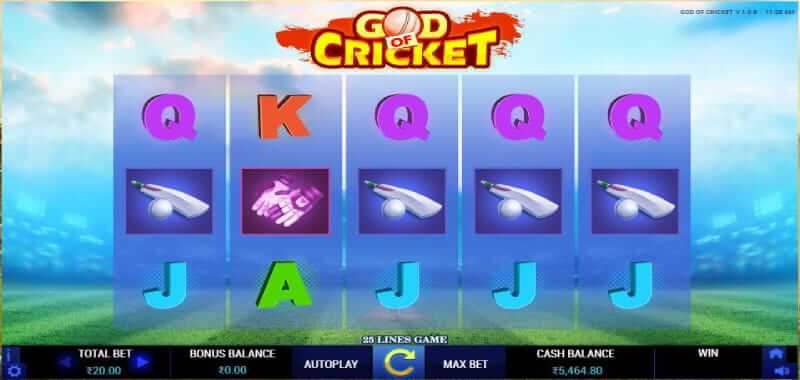 Each slot has its own little quirks, rules, bonus features, minimum and maximum limits per spin and other things you should know about before starting to play. And the God of Cricket is no different.
Just like a Team analyst or Coach will give a cricketer the lowdown on the opposition players and tips on how to take them on, so we will teach you all you need to know about playing this slot and maximise your chances of winning on it.
No need for conducting the toss here, so let's get straight into it!
What are the rules you need to follow while playing the God of Cricket?
Thankfully, the God of Cricket rules are a lot easier to learn than those of the game of cricket. And that's even without going into the super complex new rules brought in when DRS was introduced where players who are Out may not be out anymore and those were Not Out may yet be Out. That's for another day.
Here are the essential ones for God of Cricket.
God of Cricket Slot Game Rules
It's a 5x3 reel slot.
The big Golden Coin is the Wild, appearing on all reels and substituting for any other symbol except for the Scatter. There can be several Wilds on the Reels at any given time.
The Scatter, represented by the three trophies, can appear on Reels 1,3 and 5.
Three appearances of the Scatter will activate the Jade bonus. You'll then be asked to pick five trophies from a selection of eight which will give you a certain number of free spins and a Multiplier.
The game has a random feature whereby cricketers appear fully stacked as Wilds on Reels 1 and 5. They will stay in place with a respin taking place on Reels 2, 3 and 4.
All wins pay from left to right except Scatter wins, which pay all ways.
How to Place a Bet While Playing God of Cricket?
There are three different ways of getting the game to execute the all-important Spin.
The first is to select the amount you want to play (see below) and just manually use the Spin button ahead of each round.
The second is to go straight for a maximum/six and hit the Max Bet button to the right of the Spin button and play spin for a seriously hefty ₹10,000 per spin. Just like with hitting a six, it comes packed with both plenty of risk, and chance for reward.
The third is to choose your bet amount and then select to play a pre-determined number of spins using the Auto Play function. It can be pretty much as many as you want, and you can also set limits so that winning/losing a certain amount stops the Autoplay.
How to Increase the Betting Amount?
On the left side of the Reels, there's a box that says Total Bet. Clicking on the left arrow decreases the value of the bet all the way to the minimum amount permitted per stake.
Clicking on the right arrow will increase the value of the bet for your next spin all the way up to the maximum amount. Just keep clicking until you find the stake you wish to play.
What are Limits of God of Cricket?
Clicking on the left arrow will take you all the way to the minimum amount you can play on the game, which is of ₹20 per spin.
If you go the other way, you'll see that the max amount is ₹10,000. That's for the high rollers who aren't afraid to take some big risks, knowing that a couple of good spins for those amounts can see you win a small fortune. But a few spins for that sort of money not being winners can also cause a big dent in the bank.
Payout
No queuing up with a load of chips in both hands like you would in a land-based Casino. Here it's all automatic.
Anything won on God of Cricket is just added to your overall 10CRIC Casino balance. You can leave the game, change to another slot, head to the table games or do anything else you wish knowing your real money was safely banked.
When you're ready to cash out and make a withdrawal, just click on your username in the top right-hand part of the homepage. Then click on 'Withdrawal', choose what method you want to use to receive the money. You'll need to fill in a couple more details, then the withdrawal request will be processed, and the real money will be with you shortly.