You can play Cricket Kings at 10CRIC, one of a handful of games centred around everyone's favourite sport of cricket, available at India's best online Casino.
Everyone will have their reasons for loving cricket so much. That could be anything from appreciating the skill, discipline and determination of the game's great players to loving the drama and twists and turns of a typically close game. Others just love the buzz and excitement in the air during a match, especially when it's India in action.
Cricket Kings in 10CRIC India
Everything you need to know about the game
Given Indian players are also very fond of a top-class slot and you can easily see why mixing bat and ball with cricket-themed symbols, other special symbols that can work in your favour and exciting bonus features where you can earn real money very quickly… was always going to be a recipe for success.
Online Cricket Kings India is made by Woohoo and was released in February 2020. Of the cricket slots we have available here at 10CRIC Casino, Cricket Kings may just be the one with the most different angles and features to it, so it really is worth a go, even if it's just for a few spins.
Cricket Kings is both an online slot and a mobile slot - available to play on the mobile browser and on the dedicated app - meaning that all you ever need is an internet connection. Once you have that, you're ready to make your way to the crease in search of valuable runs, priceless wickets and lots of coins as a reward for your cricketing contributions to the team!
To get to Cricket Kings, just enter the game's name in the search box once you arrive in the Casino lobby.
How to Play Cricket Kings on 10CRIC?
We've already told you that we have 10CRIC Cricket Kings available to play 24/7 here in our Casino and explained how to find it in no time.
To play it, you can just log onto your laptop or PC and you can also play it on the browser of your Smartphone or tablet if you prefer that method. Or you can earn real money by downloading the 10CRIC app onto your phone and playing it that away.
But before all that, there's the small matter of having a valid and funded 10CRIC account. Here's what to do.
Click 'Join Now' and enter a few essential details like date of birth, first name and surname, and the e-mail address you want to use.
Next step: enter your mobile number, address and postcode.
Choose a username and password. It's a waste of time to keep having to reset your password because you forgot it so make sure it's one that you can easily remember and that it's one that no-one else will be able to second guess! Also, choose your preferred currency to play in.
Make a deposit using one of 10CRIC's several payment methods and make sure you know about all the different bonuses you can claim. There's the General Welcome Bonus and then there's the Casino Welcome Bonus, which in many ways is actually a bigger and better bonus than the General Welcome Bonus. Of course, if you wish, you can just choose to not claim any bonuses if you don't want to have to meet the wagering requirements on any winnings. It really is completely up to you.
If you have an account in 10CRIC - Just log in and Play!
At 10CRIC Casino you'll find 100s of top-notch slots, Live Casino games, all the classic table games and a few extra speciality games, like Andar Bahar.
The site is easy-to-use, it has lots of payment options, is a 100% safe and secure site and the Customer Service Team is reliable, efficient and friendly!
Cricket Kings Bonus Features

There are lots of different ways of securing some good wins on this game but the easiest is to activate the free spins round.
The Scatter Symbol (a shield with a bat either side of it and a big trophy with the word 'Scatter' on it) can appear on any one of the 5 reels. Getting 3, 4 or 5 Scatter symbols anywhere in view will give you 15, 20 or 25 free spins respectively, so getting to this bonus round means you'll have at least 15 spins to play 'on the house'.
But the important thing to remember is that a free spins round tends to provide much better prices than regular spins in the base game.
In this case, that's partly because there's a multiplier that goes up by 1x with each winning spin you get. If you go on a really good streak, the multiplier can go all the way up to 10x so whatever wins you secure on that last spin, will be multiplied by 10.
Everything that You Need to Know About Cricket Kings
If you've grown up in India, you'll surely know most or all of cricket's main rules. Admittedly, a few are a little tricky, though. The LBW rule has become increasingly complex since DRS was introduced and Duckworth Lewis Stern can be a bit hard to grasp.
Either way, the good news is that the Cricket Kings rules are considerably easier to understand, and you certainly won't be tested on them as you would if you were planning on becoming a cricket umpire.
So, here's all the main info you need to know about how the game works, how you win and other important details that are worth knowing about.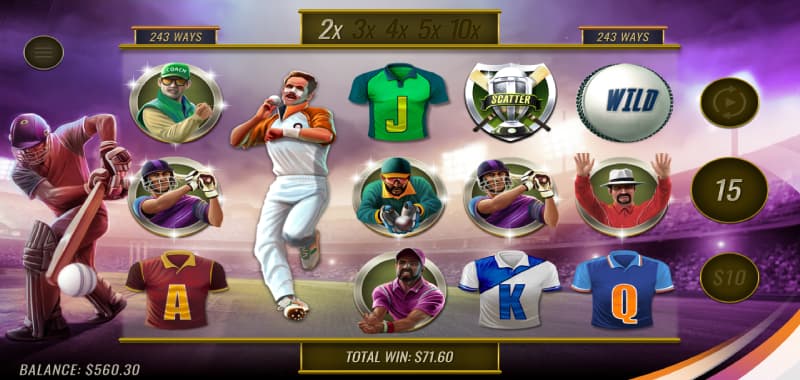 What are the rules you need to follow while playing the Cricket Kings?
Here are all the main Cricket Kings rules, before you start spinning!
There are 5 reels and 243 different ways to win, based on getting symbols in a particular combination.
All wins pay left to right, except for the Scatter which pays both ways.
There are nine different regular symbols in the game, and you'll get a pay-out if you get 3,4 or 5 of them in the necessary order. The three players in action are the most valuable with the batsman the most valuable, then the wicketkeeper and then the fielder. They're followed by the Coach and the Umpire. The four different team jerseys are the least valuable symbols.
The Wild symbol substitutes for any other symbol to help you win, other than the Scatter. It's represented by a white cricket ball.
On Reels 3,4 and 5 the Wild is Stacked, meaning it covers the entire reel. In this case, the symbol is a fast bowler running in with the ball in his hand.
Reels 2,3 and 4 can randomly turn Wild and up to two of them can do so at the same time.
The Free Spins round is triggered by getting 3, 4 or 5 Scatters, as per above.
After any win, the symbols making up that win will disappear, to be replaced by others. If those new symbols result in another winning combination you'll get paid out for that, as well. With each win, the Multiplier increases so the more wins in a row you get, the bigger the Multiplier on your next win.
How to Place a Bet While Playing Cricket Kings?
To bet on Cricket Kings, you'll need to know how to get those reels spinning. The straightforward way is to just press the big button to the right of the reels once before each spin, also known as manually spinning.
The alternative is to go into Auto Play mode.
That means selecting whether you wish to play 10, 25, 50 or 100 spins automatically without you having to do anything.
As a unique feature, you can also choose to play an infinite number of spins automatically! So, in theory, if you left this on and came back a few hours/days later you might either have a very nice surprise, or not such a good one!
How to Increase the Betting Amount?
There are three buttons to the right of the reels, one on top of each other. The one at the bottom is the one that allows you to change your stake. The slot actually gives you fewer stakes per spin to choose from than you would get in other games, but that's not a big problem.
If you wish to increase your betting amount, just choose a stake that's higher than what you were previously playing at, from the 10 amounts on offer.
The game will automatically only display the amounts that you're able to play for in relation to the amount available in your Casino account.
What are Limits of Cricket Kings?
As we said, there are just 10 different amounts to choose from. You just choose the amount directly by clicking on it; you don't need to adjust coin values and bets until you get to the one you want like you would in other games.
The minimum bet is just ₹50, and the maximum bet is a massive ₹10,000 per spin. Remember that all spins are completely random and that their outcomes are created by a random number generator. What that means is that playing for higher stakes can allow you to win big very quickly, but can also see you lose your bank a lot quicker, if you go on a dry run.
So, it's worth taking that all into consideration.
Payout
Unlike in land-based Casinos, payouts are automatic in that the real money is yours as soon as you win it. So, no need to fill your pockets with plastic Casino chips and get them weighed before leaving the Casino with wads of banknotes!
Once you're done playing Cricket Kings or just want a break, just exit the game and whatever you banked is yours and will remain in your 10CRIC Casino account.
When you're ready to cash out and make a withdrawal, just click on your username in the top right-hand part of the homepage. Then click on 'Withdrawal' and choose which payment method you want to use this time. There are cards, E-Wallets and bank transfers. In other words, there's something for everyone.
You'll need to fill in a couple more details, then the withdrawal request will be processed, and the real money will be yours to spend however you like, shortly after.